Print
Lobster Mac and Cheese Recipe
---
Author:

Total Time:

30 minutes
Print
Lobster Mac and Cheese Recipe
---
Author:

Total Time:

30 minutes
Print
Lobster Mac and Cheese Recipe
---
Author:

Total Time:

30 minutes
Print
Lobster Mac and Cheese Recipe
---
Author:

Total Time:

30 minutes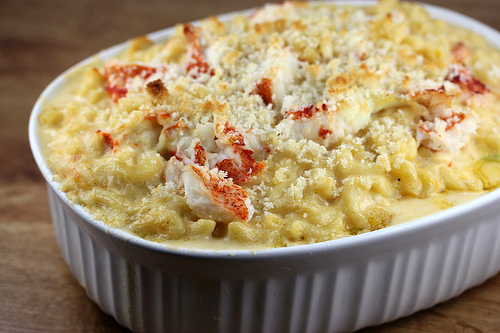 Lobster Mac and cheese is perhaps the most expensive dish I have ever prepared. Being from Michigan, I do not have local access to fresh lobster so I decided to order some live lobsters from Maine. With a bit of the leftover lobster meat I decided to make lobster macaroni and cheese. This recipe uses both cheddar and Gruyere cheeses to create a delicious flavor. The recipe also uses nutmeg which I found to be a little strange in the dish. If you are not a fan of nutmeg, I would recommend leaving it out. You can make your own breadcrumbs by placing the bread slices into a food processor or blender. Needless to say, unless you live in an area where lobster is relatively cheap, this recipe is going to be a little expensive. This makes a dinner and will feed about 6 to 8 people. If you want to it serve less you could cut the recipe in half. Enjoy.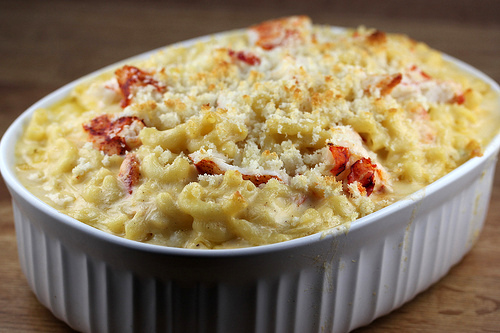 Ingredients:
1lb elbow macaroni
1 quart milk
8 tablespoons unsalted butter (divided)
½ cup all-purpose flour
12 ounces Gruyere cheese (grated)
8 ounces sharp Cheddar cheese (grated)
1 teaspoon salt
½ teaspoon ground black pepper
½ teaspoon nutmeg
1 ½lbs cooked lobster meat (chopped)
1 ½ cups fresh white bread crumbs (5 slices, crusts removed)
Cooking Instructions: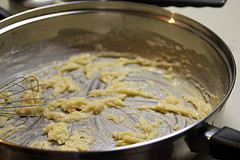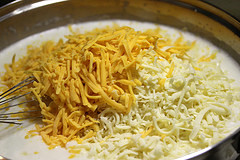 Step 1: Pre-heat the oven to 375 degrees. Cook elbow macaroni according to package directions. Drain well.
Step 2: Meanwhile, in a small sauce pan heat the milk but do not boil. In a large deep skillet (or pot) melt 6 tablespoons of butter, whisk in the flour and cook over low heat for about 2 minutes while whisking. Slowly add the hot milk, while whisking until the mixture is thickened and smooth. Remove from heat; add the Gruyere cheese, cheddar cheese, 1 teaspoon salt, black pepper, and nutmeg. Add the cooked macaroni and lobster and stir well (if there is too much in the pan, you can mix the cheese sauce with the macaroni and lobster in a large bowl). Spoon the mixture into a 11×15"baking dish.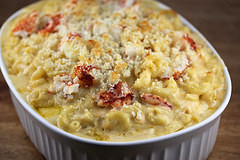 Step 3: Melt the remaining 2 tablespoons of butter and combine them with the fresh bread crumbs, sprinkle on top of the mac and cheese. Place into the oven and bake at 375 degrees for 30-35 minutes, or until the sauce is bubbly and the macaroni is browned on top.
(Makes 6 Servings)