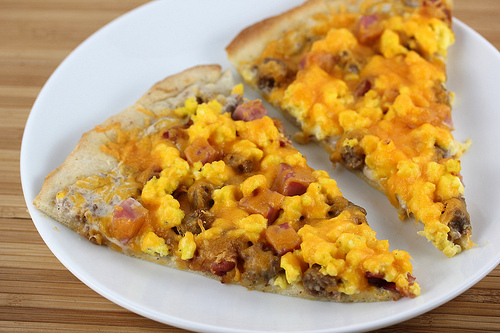 This is what I would consider a meat lovers pizza breakfast style. This pizza uses three different types of meat—sausage, bacon, and ham. To make things even better the sauce is a country-style gravy. You can use the powdered mix in the packet, buy it premade in a can, or even make your own sausage gravy! This delicious breakfast pizza is also topped with scrambled eggs and cheddar cheese. This pizza is great served for breakfast but also makes for a great dinner as well. Enjoy.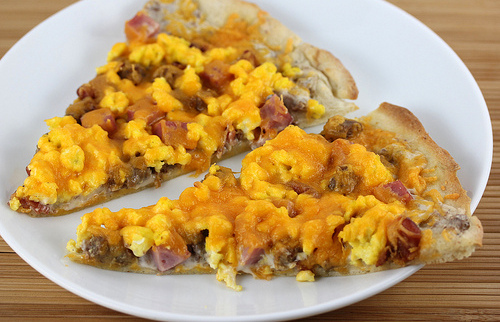 Ingredients:
1 pre-baked refrigerated pizza crust (at room temperature)
1 (2 ½ ounce) package country gravy mix
1 cup milk
1 cup water
1 cup chopped sausage links (fully cooked)
1 cup chopped ham (cooked)
1 cup cooked crispy bacon (crumbled)
½ cup milk
2 tablespoons margarine
8 eggs
1 ½ cups shredded cheddar cheese
Cooking Instructions: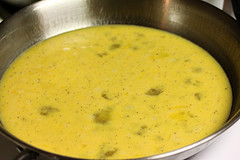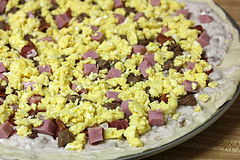 Step 1: Preheat the oven to 400 degrees. In a medium sauce pan add the water and milk. Whisk in the gravy mix and bring to a boil. Reduce heat and simmer for 2-3 minutes stirring constantly until thick. Remove from heat and allow the gravy to cool slightly.
Step 2: In a large bowl beat together the eggs with milk. In a large skillet melt margarine over medium heat. Add the beaten eggs to the skillet and scramble until set and in small chunks.
Step 3: Place the pizza crust onto a lightly greased pizza pan or baking sheet. Spread the gravy evenly over the top. Sprinkle the cooked sausage, cooked ham, and cooked bacon over the top of the gravy. Sprinkle the scrambled eggs over the meats. Sprinkle the cheese evenly over the eggs.
Step 4: Place into the oven and bake at 400 degrees for 10-15 minutes until bubbly and the cheese is melted and browning. Allow to cool slightly and cut into wedges.
(Makes 6 Servings)
If you enjoyed this article Subscribe to my RSS Feed.