Looking for a fun finger food to serve at your next game day party? Here it is: Buffalo Chicken Bites. These handheld bundles are cheesy and spicy just like a warm buffalo chicken dip (or buffalo chicken pizza) but easier and more fun to eat. They're the perfect party food — but so good that I've served them up for a cozy dinner at home.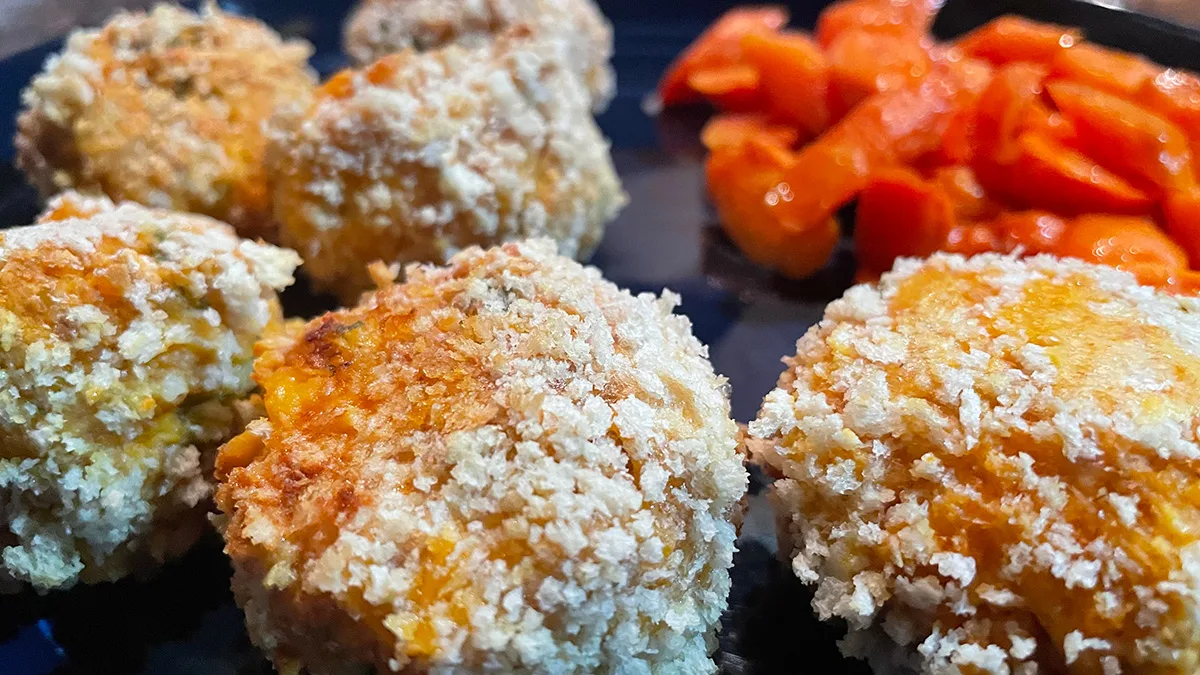 How to prepare buffalo chicken bites
There is a bit of prep work involved for these, since each ball must be rolled in flour, egg, and Panko. Here are the steps.
1. Soften your cream cheese
Raise your hand if you've ever forgotten to soften cream cheese or butter before making a recipe. OK, we've all done it. Fortunately, you don't have to wait until midnight to start on your recipe. Just pop the cream cheese in the microwave for five seconds at a time until it loses its cold firmness. Take care not to melt it.
You can do the same with butter.
2. Heat the oven and prep your sheet
Preheat your oven to 350F and line a baking sheet with parchment paper. Don't skip the parchment paper. If you don't have any on hand, borrow some from a neighbor and stock up now. Once you realize how useful it is, you don't be able to live without it.
If you make this recipe without the parchment paper, your chicken bites will stick to the baking sheet. You don't want that. It ruins the presentation and the texture variation — crispy on the outside and soft and cheesy in the middle.
3. Make your chicken cheese mixture
Next, mix your shredded chicken softened cream cheese, buffalo sauce, cheddar cheese, and green onions. Using your hands, grab a handful of the mix and roll it into a ball. Aim for golf-ball size. Smaller than that and the next step will be very tedious.
4. Roll
For this next step, set up an assembly line. If you have kids, throw some latex gloves on their hands and they can help.
You need three shallow dishes. One has flour, one has two whisked eggs, and one has Panko. Take each chicken ball and roll it in the flour first, then the egg. Let any extra egg drip off and then roll the ball in the Panko. As you finish, set each ball on your prepared baking sheet.
If you're particular about consistency, you may have the urge to reshape your buffalo chicken bites slightly before cooking. Don't worry about it. They'll get a little flatter when they cook, so your meticulousness might be wasted if you try to get them all perfectly round and even.
5. Bake
Pop those suckers in the oven and let them bake for 25 minutes. They're done when the outside looks golden brown.
What to serve with buffalo chicken bites
Buffalo chicken bites are delicious served with extra buffalo sauce and ranch. You could also sprinkle blue cheese over the top.
For side dishes, go with a vegetable or green salad. These are very rich so you'll want a lighter dish on the side to balance that out.
If you don't have cooked chicken on hand
If you're starting with raw chicken, cook the chicken first, then follow the steps of the recipe. You can bake two chicken breasts at 350 for 20 minutes or until the internal temperature reaches 165F. Let it rest for five minutes, then chop or shred the meat.
Or, a quicker option, cut raw chicken into pieces and fry it in a pan with 2 teaspoons of olive oil. Then let it rest and shred.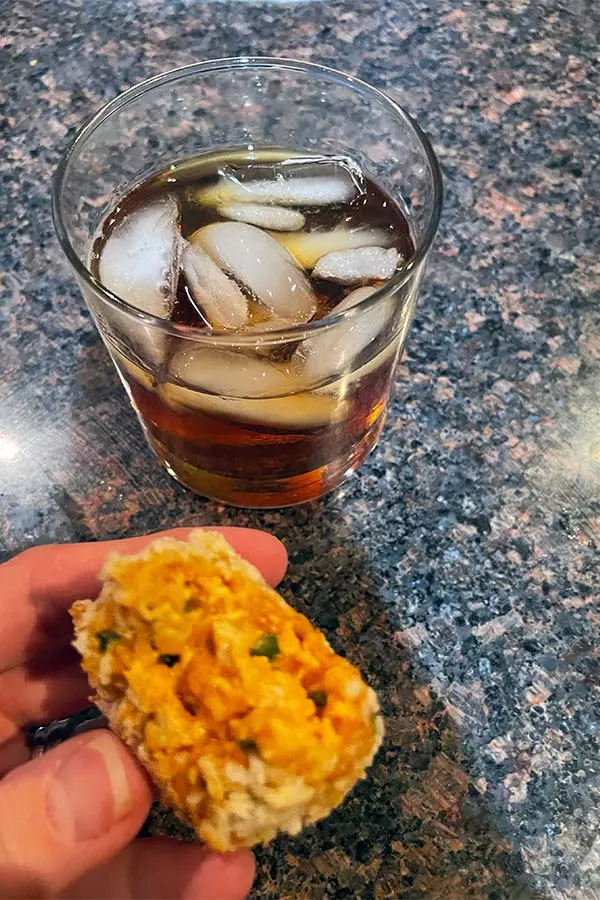 Recipe adapted from Sweet Pea's Kitchen.
Yield: 4 Servings
Buffalo Chicken Bites Recipe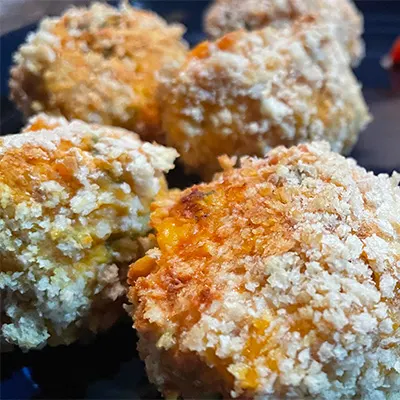 If you like Buffalo chicken dip, you'll love these creamy, spicy chicken bites. They have the same flavor as the classic party dip, but they're less messy and more fun to eat!
Ingredients
3 cups shredded cooked chicken
¼ to ½ cup buffalo sauce (to taste)
3 ½ ounces cream cheese (softened)
1 ¾ cups shredded sharp cheddar cheese
¼ cup chopped green onions
1 cup all-purpose flour
2 eggs (lightly beaten)
1-2 cups Panko breadcrumbs
Instructions
Preheat the oven to 350 degrees and line a large baking sheet with parchment paper.
In a large bowl, mix together chicken, cream cheese, buffalo sauce, cheddar cheese, and green onions. Roll a heaping tablespoon of the mixture into a 1 ½-inch ball and place onto a plate. Repeat with the remaining chicken mixture.
Set out three shallow dishes, pie plates, or cake pans. Crack your eggs in one, add flour to another, and put the Panko in the third.
Roll each chicken ball in the flour, then dip in the egg mixture, and then roll in the Panko until evenly coated. Place onto the prepared baking sheet. Repeat until all of the chicken balls are coated.
Place into the oven and bake at 350 degrees for 20 to 25 minutes. Serve warm with blue cheese or ranch dressing.
Notes
If you're starting with raw chicken breast, bake it in the oven for 20 minutes or until the internal temperature reaches 165F. Remove from oven, let rest for 5 minutes, then shred. For faster prep, cut the chicken into small pieces and fry it with a teaspoon of olive oil in a non-stick pan.
Nutrition Information:
Yield:
4
Serving Size:
1
Amount Per Serving:
Calories:

1083
Total Fat:

61g
Saturated Fat:

29g
Trans Fat:

1g
Unsaturated Fat:

24g
Cholesterol:

311mg
Sodium:

1223mg
Carbohydrates:

67g
Fiber:

3g
Sugar:

5g
Protein:

64g
Nutrition information isn't always accurate.