Chicken Alfredo Casserole Recipe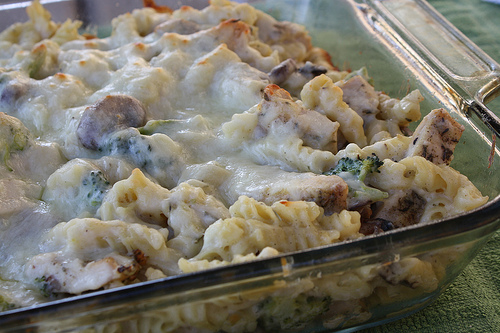 One of the best types of casseroles I have come across is chicken alfredo casserole. This casserole is sure to please all alfredo and chicken lovers. This recipe is stacked with a delicious alfredo sauce. Some of the ingredients in the casserole include chicken, broccoli and mushrooms. Those 3 ingredients alone should be able to sell almost anyone on this fantastic dish. Let's get down to the main component of this dish, which is the Alfred sauce itself. The sauce is a combination of butter, heavy cream, and parmesan and mozzarella cheeses. If you want to save time you can use pre-cooked left over chicken. This dish will go great on those cold summer days, or is perfect for other times of year as well. Enjoy.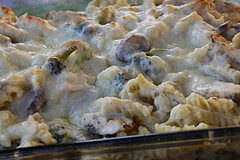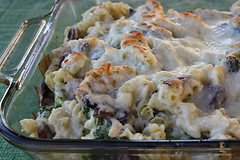 Ingredients:
1lb spiral pasta (cooked according to package directions and drained)
3 boneless skinless chicken breast halves
¼ teaspoon dried rosemary
¼ teaspoon thyme
¼ teaspoon poultry seasoning
¼ teaspoon garlic powder
¼ teaspoon salt
3 cups shredded mozzarella cheese
8 ounces fresh sliced mushrooms (pre-cooked)
1 head of broccoli (cut into florets)
Alfredo Sauce-
½ cup sweet butter
2 garlic cloves (minced)
2 cups heavy cream
¼ teaspoon white pepper
½ cup grated parmesan cheese
¾ cup mozzarella cheese
Cooking Instructions: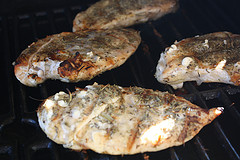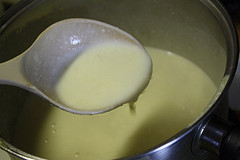 Step 1: In a small bowl combine rosemary, thyme, poultry seasoning, garlic power and salt. Pound chicken breast halves to an even thickness. Season with the seasoning mixture on both sides of the chicken breasts. Place chicken onto a greased outdoor grill or indoor grill man. Grill until chicken is fully cooked. Allow chicken to cool and then slice into strips. Set aside.
Step 2: To make alfredo sauce: (the noodles can be cooked at this point) Melt butter in a medium saucepan over medium-low heat. Add the garlic, cream, white pepper and bring the mixture to a simmer. Stir often. Add parmesan cheese and simmer the sauce for 8-10 minutes or until the sauce has thickened and become smooth. Add the mozzarella cheese and cook until smooth.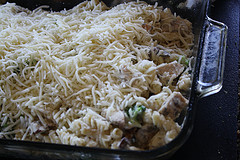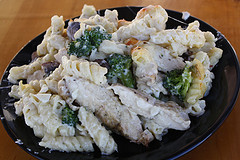 Step 3: In a large bowl combine chicken, cooked pasta, broccoli, mushrooms, 1 cup of mozzarella cheese. Stir in alfredo sauce. Pour the mixture into a large casserole dish. Top with remaining mozzarella cheese. Bake in the oven at 350 degrees for 25-30 minutes.
(Makes 8 Servings)