Chicken Alfredo Recipe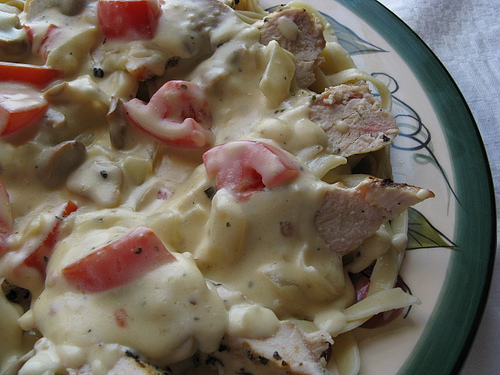 Chances are you've probably have eaten chicken fettuccini alfredo at some of your favorite restaurants such as the olive garden, and tonight I have a chicken alfredo recipe for you that rivals restaurants. That's right; this is some of the best homemade chicken alfredo that iv ever tasted. This dish is based off the original called fettuccini alfredo, which is basically fettuccini noodles topped with a delicious creamy cheese sauce. We are adding chicken and going even further by putting sliced mushrooms, roma tomatoes, and onions in the mix. The original recipe calls for cooking the chicken in the frying pan, but sometimes I feel like something different so I'll grill it instead.  This recipe might seem like it takes a little work, but it's really easy and the end result is worth it. This recipe is sure to impress almost anyone. Cook it for some guests and see for yourself.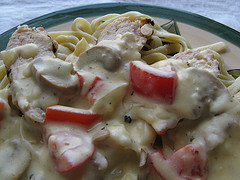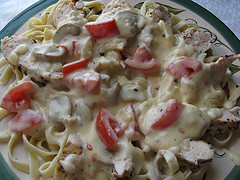 Ingredients:
6 boneless skinless chicken breast halves (cut into cubes)
6 tablespoons butter (divided)
4 garlic cloves (minced and divided)
1 tablespoon Italian seasoning
1 pound fettuccini pasta
1 onion (diced)
1 (8 oz) package sliced mushrooms (or use sliced canned mushrooms)
1/3 cup all-purpose flour
1 tablespoon salt
¾ teaspoon ground white pepper
3 cups milk
1 cup half and half
¾ cup grated parmesan cheese
8 ounces shredded Colby-Monterey jack cheese
3 roma tomatoes (diced)
½ cup sour cream
Cooking Instructions: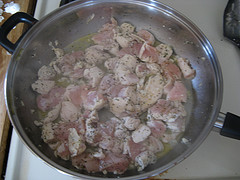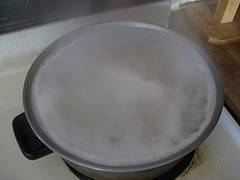 Step 1: In a large skillet over medium heat combine chicken, half of the minced garlic cloves, 2 tablespoons of butter, and Italian seasoning. Cook chicken until its no longer pink inside. Remove from the pan and set aside.
Step 2: Cook fettuccini according to package directions.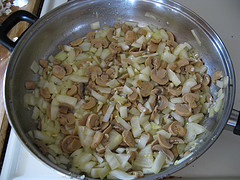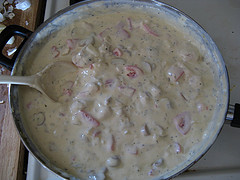 Step 3: While fettuccini is cooking melt 4 tablespoons of butter in your skillet. Sauté onion, 2 tablespoons of garlic, and mushrooms until the onions are transparent. Stir in the flour, salt and pepper, and cook for a couple minutes. Slowly add the milk, half and half, and stir until it's creamy and smooth. Stir in the Colby-jack and parmesan cheeses, and stir until cheese is melted. Stir in the chicken mixture, diced tomatoes, and sour cream. Serve over fettuccini. 
Tags: cooking, recipes, food and drink, recipe