BLT Recipe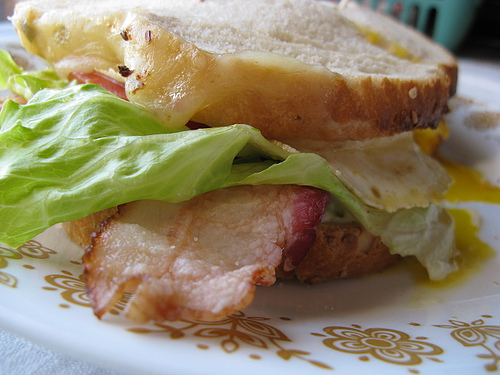 If you've ever seen the movie Spanglish you probably recognize this sandwich. It's none other than the World's Greatest Sandwich by Thomas Keller. He was asked to make an amazing snack for the movie that everyone at home would want to eat, and that he did. From the first time I saw the movie I immediately wanted to make this sandwich. The recipe wasn't hard to find either; it is actually included on the DVD. Thomas Keller also had to train Adam Sandler (who had never cooked before) to make this great sandwich in the movie. There is a short clip included on the DVD of the training session. For those of you who have never watched the movie, the World's Greatest Sandwich is basically a BLT with a fried egg and Monterey jack cheese. The original recipe calls for pain de champagne (rustic country loaf), but that can be hard to find so sour dough would be a good substitute. If you're in the mood for a delicious late night snack this is for you, but is it really "The World's Greatest Sandwich"? I'll let you decide.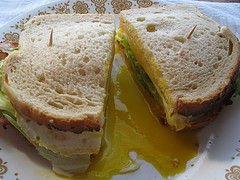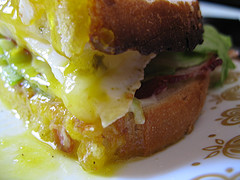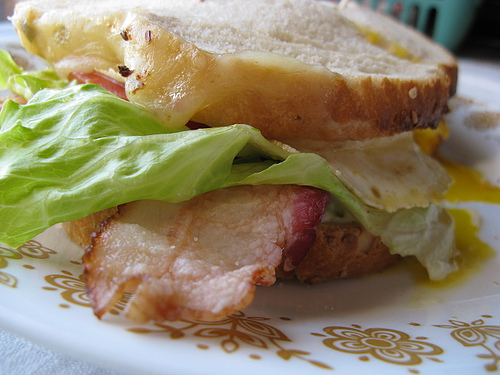 BLT Recipe
Ingredients:
3 to 4 thick slices of crispy bacon
2 slices Monterey jack cheese
2 slices pain de champagne (rustic country loaf) or sour dough bread (toasted)
1 tablespoon mayonnaise
2 slices tomato
2 leaves butter lettuce (or the lettuce of your choice)
1 teaspoon butter
1 egg
Directions:
Cook bacon until it's crispy, drain on paper towels and set aside.
Place two slices of cheese on one side of the toasted bread and place in a toaster oven or under a broiler to melt the cheese.
Spread mayonnaise on the other slice of toast, and top with slices of crispy bacon, lettuce, and tomato slices.
In a non-stick pan melt butter over medium heat. Fry the egg on one side and flip briefly when the bottom is set. You want to keep the yolk runny.
Slide the egg on top of the tomatoes and top with the other slice of toast (melted cheese side down). Place on a plate and slice in half, letting the egg yolk run down the sandwich.