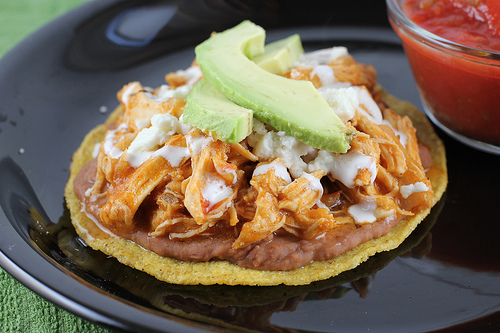 Cinco de Mayo is approaching fast and many of you are contemplating what to prepare for this special day. There are a lot of great Mexican recipes on this website, but here I am going to present to you chicken tinga tostadas. Tostadas were a nice change from tacos and the chicken tinga turned out to be delicious. What I like best about this recipe is it uses a lot of fresh ingredients instead of canned. The sauce is a mixture of roma tomatoes, tomatillos and various spices. I listed a few condiments which I think would go good with this recipe but you can add others as well. You can also used leftover cooked chicken for this recipe. Enjoy.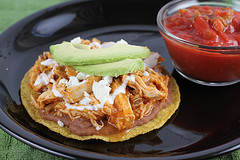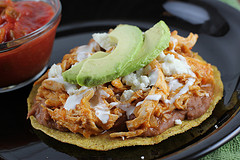 Ingredients:
3 tablespoons vegetable oil
½ white onion (chopped)
8 roma tomatoes (rinsed)
2 tomatillos (husks removed and rinsed)
½ teaspoon oregano
¼ teaspoon marjoram
¼ teaspoon thyme
1 ½ teaspoons salt
¼ teaspoon ground black pepper
2 tablespoons Chipotle in Adobo sauce
5 cups cooked chicken (shredded)
12 corn tostadas
1 ½ cups refried beans
1 avocado (sliced)
1 cup queso fresco cheese
shredded lettuce
Cooking Instructions: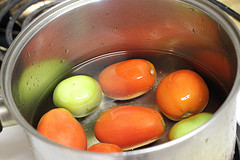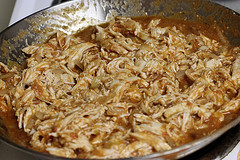 Step 1: Place tomatillos and roma tomatoes into a medium sauce pan and add enough water just to cover the vegetables. Bring to a boil and boil for 8 to 10 minutes or until the tomatoes are soft. Remove with a slotted spoon and place into a blender. Process until smooth.
Step 2: In a large deep skillet over medium heat add oil. Add onion and cook until soft. Stir in garlic and cook for 1 minute. Pour the tomato sauce from the blender into the skillet. Add oregano, marjoram, thyme, salt and pepper. Add the sauce from the chipotle in adobo sauce. Let the sauce simmer until it becomes thick (About 10 minutes). Add the chicken to the pan and toss with the sauce. Cook until heated through.
Step 3: In a medium sauce pan over low heat, heat refried beans. To layer tostadas- Spread a layer of refried beans on the top of a tostada shell. Add chicken mixture, top with queso fresco, lettuce, and avocado.
(Makes 4 Servings)
If you enjoyed this article Subscribe to my RSS Feed.