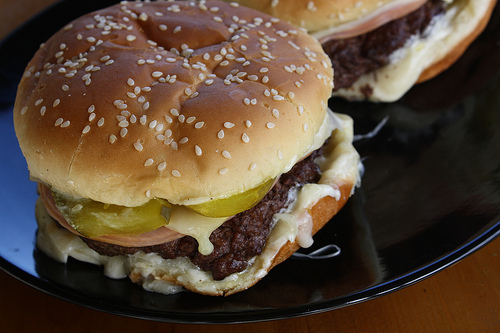 If you haven't guessed already this is a combination of a hamburger and a Cuban sandwich. This is a recipe from the legendary Bobby Flay. This burger uses traditional Cuban sandwich ingredients such as ham, pickles and Swiss cheese. The burgers are topped with garlic mayonnaise and Dijon mustard. Since we are using the grill for this recipe, you know it's perfect for summer. It is also extremely easy to prepare. The recipe calls for the burgers to be pressed, this is totally optional. Enjoy.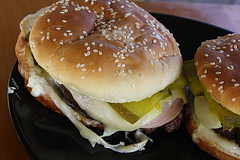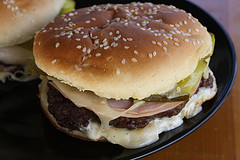 Ingredients:
2 lbs ground chuck
salt and pepper (to taste)
½ cup mayonnaise
3 cloves roasted garlic (smashed or pureed)
¼ cup Dijon mustard
4 hamburger buns
8 slices Swiss cheese
4 slices smoked ham
2 dill pickles (sliced ¼" thick)
Cooking Instructions: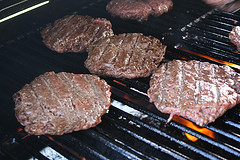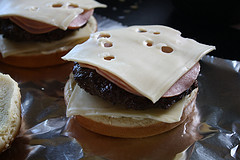 Step 1: Grease and pre-heat an outdoor grill to high heat. Form the ground chuck into 4 patties and season with salt and pepper on both sides. Place burgers onto the grill and grill for 3-4 minutes on each side or until burgers are fully cooked.
Step 2: In a small bowl combine garlic and mayonnaise. Add salt and pepper to taste.
Step 3: To assemble burgers – Spread both of the sides of each bun with mustard and mayonnaise. Place 1 slice of Swiss cheese on the bottom half of each bun. Place the burger on top of the cheese. Top the burger with a slice of ham and then another slice of cheese, and finally add the pickle slices. Place the bun over the pickles.
Step 4: Wrap burgers in aluminum foil and place them on the grill. Using a heavy pan press the burgers down for 30 seconds to 1 minute. Lower the lid on the grill and continue grilling for 1 to 2 minutes or until the cheese has melted.
(Makes 4 Servings)
If you enjoyed this article Subscribe to my RSS Feed.