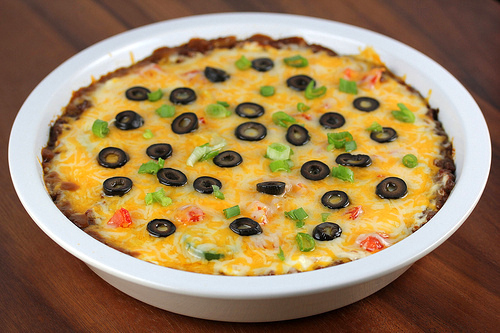 Hot dip recipes make an amazing appetizer for playoff and Super Bowl parties. This hot taco dip is perfect for game day and is something that fans of taco ingredients are sure to enjoy.  This recipe is not very hard to prepare and will serve 8 people. If you are looking to feed a large crowd you could easily double the recipe and prepare it in two baking dishes. This delicious taco dip consists of layers of a taco meat and refried bean mixture, sour cream, vegetables, and Colby-jack cheese. You could pretty much add any of your favorite taco ingredients to this recipe and it would be delicious. Enjoy.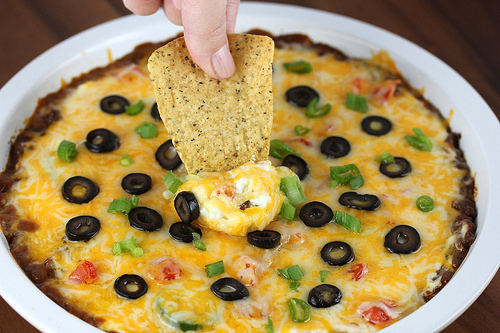 Ingredients:
1lb ground beef
1 (16 ounce) can refried beans
½ cup hot taco sauce
1 tablespoon chili powder
1 teaspoon ground cumin
1 cup  sour cream
¼ cup chopped onion
¼ cup chopped tomatoes
¼ cup black olives (sliced)
¼ cup jalapeno pepper rings
1 ½ cups shredded Colby-jack cheese

Cooking Instructions: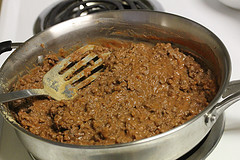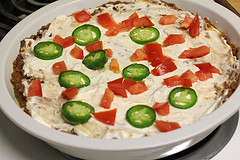 Step 1: Preheat the oven to 350 degrees. In a large skillet, brown the ground beef and drain off an excess liquid. Stir in refried beans, taco sauce, chili powder, and cumin. Lightly grease a 9×13 inch baking dish. Spread the ground beef/refried beans mixture into an even layer on the bottom of the baking dish. Spread the sour cream in an even layer over the beef and bean mixture. Layer onions, tomatoes, olives, and jalapeno pepper rings over the sour cream. Top with Colby-jack cheese.
Step 2: Place into the oven and bake at 350 degrees for 30 minutes. Serve immediately.
(Makes 8 Servings)
If you enjoyed this article Subscribe to my RSS Feed.