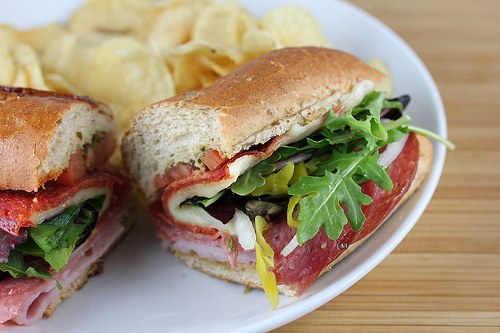 I really enjoy the subs at Quiznos because they are baked and full of flavor. This is a copy cot recipe for Quiznos Classic Italian Sandwich. If you are not familiar with this sandwich it is loaded with Italian ingredients such as pepperoni, ham, and genoa salami. Additional ingredients include items such as olives, tomato, lettuce and onion. The best part about this recipe though is the dressing. The sub rolls are spread with sweet balsamic dressing and basil pesto. The combination of these dressings is what really makes this sandwich. If you enjoy this sandwich at Quiznos, you will love this recipe.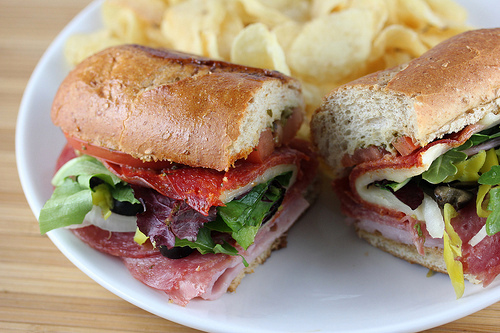 Ingredients:
6 sub  rolls
1/3lb sliced salami
1/3lb sliced pepperoni
1/3lb sliced ham
12 slices mozzarella cheese
12 thin slices tomato
12 thin slices onion
lettuce
sliced black olives
sliced pepperoncini
dried oregano
sweet balsamic dressing
basil pesto
Cooking Instructions: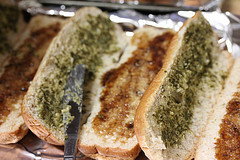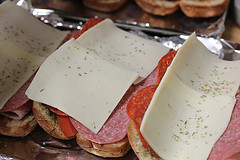 Step 1: Preheat the oven to 300 degrees. Split the sub rolls and lay them onto a baking sheet. Spread about 1 tablespoon of sweet balsamic onto one side of the inside of the sub roll, and about 1 tablespoon of basil pesto on the other side.
Step 2: Fill each sub roll with even amounts of the salami, pepperoni, ham, and 2 slices of mozzarella cheese. Sprinkle oregano over the cheese.  Place into the oven and bake at 300 degrees for 10 minutes (or longer if you want them toasted more).
Step 3: Remove from the oven. Top the subs with 2 slices of tomato, 2 slices of onion, pepperoncini, black olives, and lettuce.
(Makes 6 Servings)
If you enjoyed this article Subscribe to my RSS Feed.