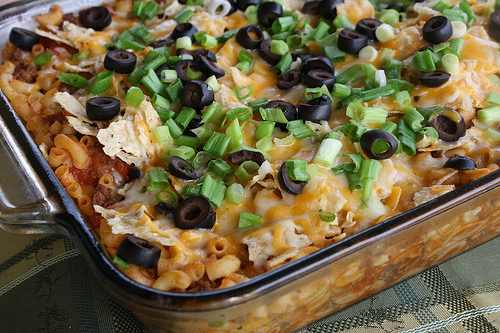 The colder weather is approaching and that means its time for some casserole dishes. This particular dish, taco casserole is one of my all time favorites. I have tried a few different taco casserole recipes, but I prefer this one with the pasta in it. Some of the ingredients in this dish include ground beef, onions, diced tomatoes, tomato soup and taco seasoning mix. Some toppings include black olives, cheese, and green onions. You could also add diced tomatoes, lettuce and sour cream if you choose. I find that added the crushed tortilla chips and the toppings within the last few minutes of baking works the best. This dish is best served immediately so the tortilla chips will still be crunchy. Enjoy.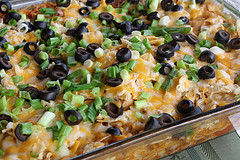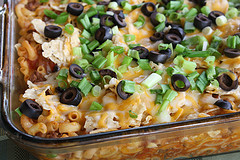 Ingredients:
1lb ground beef
8 ounces macaroni
½ cup onion (chopped)
1 (10.75 ounce) can condense tomato soup
1 (14.5 ounce) can diced tomatoes
1 (1.25 ounce) package taco seasoning mix
2 ounces shredded Cheddar cheese
2 ounces shredded Monterey Jack  cheese
1 cup tortilla chips (crushed)
½ cup sour cream
¼ cup green onions
¼ cup sliced black olives
Cooking Instructions: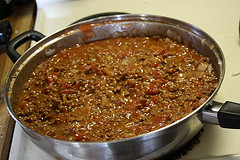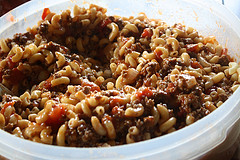 Step 1: Pre-heat the oven to 350 degrees. Cook pasta in a large pot of boiling water until al dente. Drain and set aside.
Step 2: In a large skillet, cook and stir ground beef and chopped onion over medium heat until browned. Mix in tomato soup, diced tomatoes, and taco seasoning mix. Stir in pasta.
Step 3: Spoon the beef mixture into a greased 9×13 inch baking dish. Place into the oven and bake for 30-35   minutes. Within the last 10 minutes of cooking remove from the oven and top with crushed tortilla chips, cheese, green onions and black olives. Return to the oven and finish cooking. Serve with sour cream.
(Makes 6 Servings)
If you enjoyed this article Subscribe to my RSS Feed.