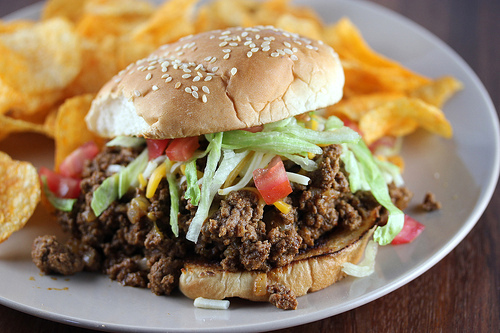 Taco Joes are the result of using taco meat instead of your typical sloppy Joe meat mixture. If you have never tried taco meat on a sandwich before, it is actually very good. The best part about this recipe is of course, the taco meat. The meat mixture consists of various seasonings such as oregano, cumin, garlic, and chili powder. The meat mixture gets even more flavor from beef bouillon and tomato sauce. You can top the sandwiches with your favorite taco ingredients such as shredded cheese, lettuce, and tomato. This recipe for Taco Joes makes a delicious and easy dinner. Enjoy.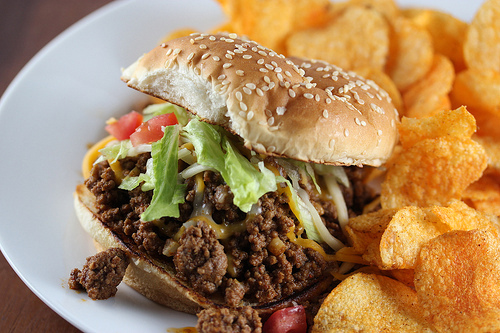 Ingredients:
3lbs ground beef
1/2 cup onions (chopped)
1 ½ cups water
3 beef bouillon cubes
1 teaspoon oregano
2 ¼ teaspoons ground cumin
1 teaspoon garlic (minced)
2 tablespoons chili powder
¼ teaspoon pepper
1 ½ cups tomato sauce
8 hamburger buns
butter (for spreading)
2 cups shredded Colby-jack cheese
chopped tomatoes
shredded lettuce
Cooking Instructions: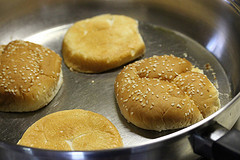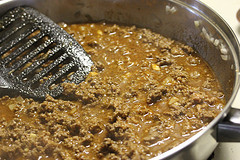 Step 1: In a small pan bring water to a boil. Add beef bouillon cubes and stir until dissolved, remove from heat and set aside.  In a large skillet brown the ground beef and onion over medium-high heat. Drain off any excess liquid.
Step 2: Add oregano, cumin, garlic, chili powder, and pepper to the browned meat. Add beef bouillon/water mixture and tomato sauce and stir to combine. Simmer for 20 minutes or until thick.
Step 3: While beef is simmering, split hamburger buns and butter each of the cut sides. Heat a large skillet to medium heat. Place split hamburger buns cut side down into the skillet and cook until lightly browned on the bottom.
Step 4: Place taco meat on top of the bottom half of the hamburger bun, top with shredded cheese, lettuce, and tomato. Repeat with remaining sandwiches.
(Makes 8 Servings)
If you enjoyed this article Subscribe to my RSS Feed.