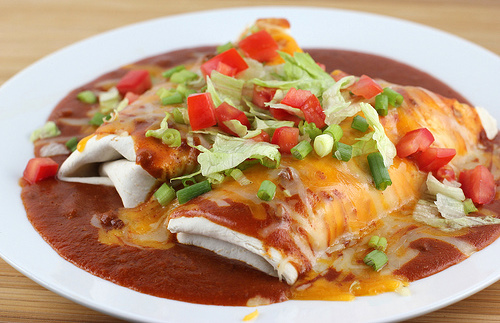 Being a lover of Mexican cuisine it came as a shock to me that I had never heard of wet burritos. After looking over the ingredient list I knew this was something I had to make. If you are not familiar with wet burritos they are flour tortillas filled with a ground beef mixture and topped with a chile sauce and cheese. The burrito filling consists of hamburger, green chilies, and refried beans. What really impressed me about this dish was the chile sauce. This sauce uses condensed tomato soup, enchilada sauce and canned chili. The combination was excellent. If you are looking for a slightly different take on the burrito, give this one a try.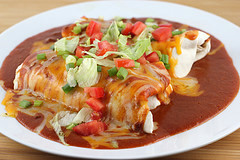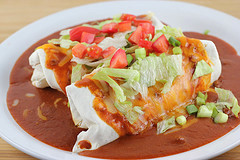 Ingredients:
1lb ground beef
½ cup onion (chopped)
1 garlic clove (minced)
½ teaspoon cumin
¼ teaspoon salt
1/8 teaspoon pepper
1 (4.5 ounce) can diced green chili peppers
1 (16 ounce) can refried beans
1 (15 ounce) can chili without beans
1 (10.75 ounce) can condense tomato soup
1 (10 ounce) can enchilada sauce
6 (12 inch) flour tortillas (warmed)
2 cups shredded Mexican cheese blend
2 cups shredded lettuce
1 cup tomatoes (chopped)
½ cup green onions (chopped)
Cooking Instructions: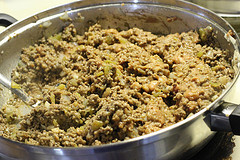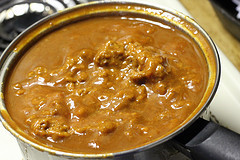 Step 1: In a large skillet over medium-high heat cook ground beef while chopping up with a spatula or spoon. Cook while chopping until browned. Add onion and cook until translucent. Drain the grease and season with garlic, cumin, salt and pepper. Stir in green chilies and refried beans. Mix until well blended. Turn off heat and keep warm.
Step 2: In a medium saucepan combine chile without beans, tomato soup, and enchilada sauce. Cook until heated through and bubbling. Keep warm.
Step 3: Place a warmed tortilla onto a platter, and spoon about a ½ cup of the ground beef mixture onto the center of the tortilla. Roll up the tortilla over the filling. Spoon a generous amount of the chile/enchilada sauce over the top of the burrito and sprinkle cheese over the top of the sauce. Microwave for 30 seconds or until the cheese has melted. Top with lettuce, tomato, and green onions.
(Makes 6 Servings)
If you enjoyed this article Subscribe to my RSS Feed.