On this meal plan, you get the best of both worlds regarding carb consumption. You'll have days when you can indulge and days when you're obligated to restrict your eating. And this cycling helps you build a superb health system while maintaining your daily lifestyle choice.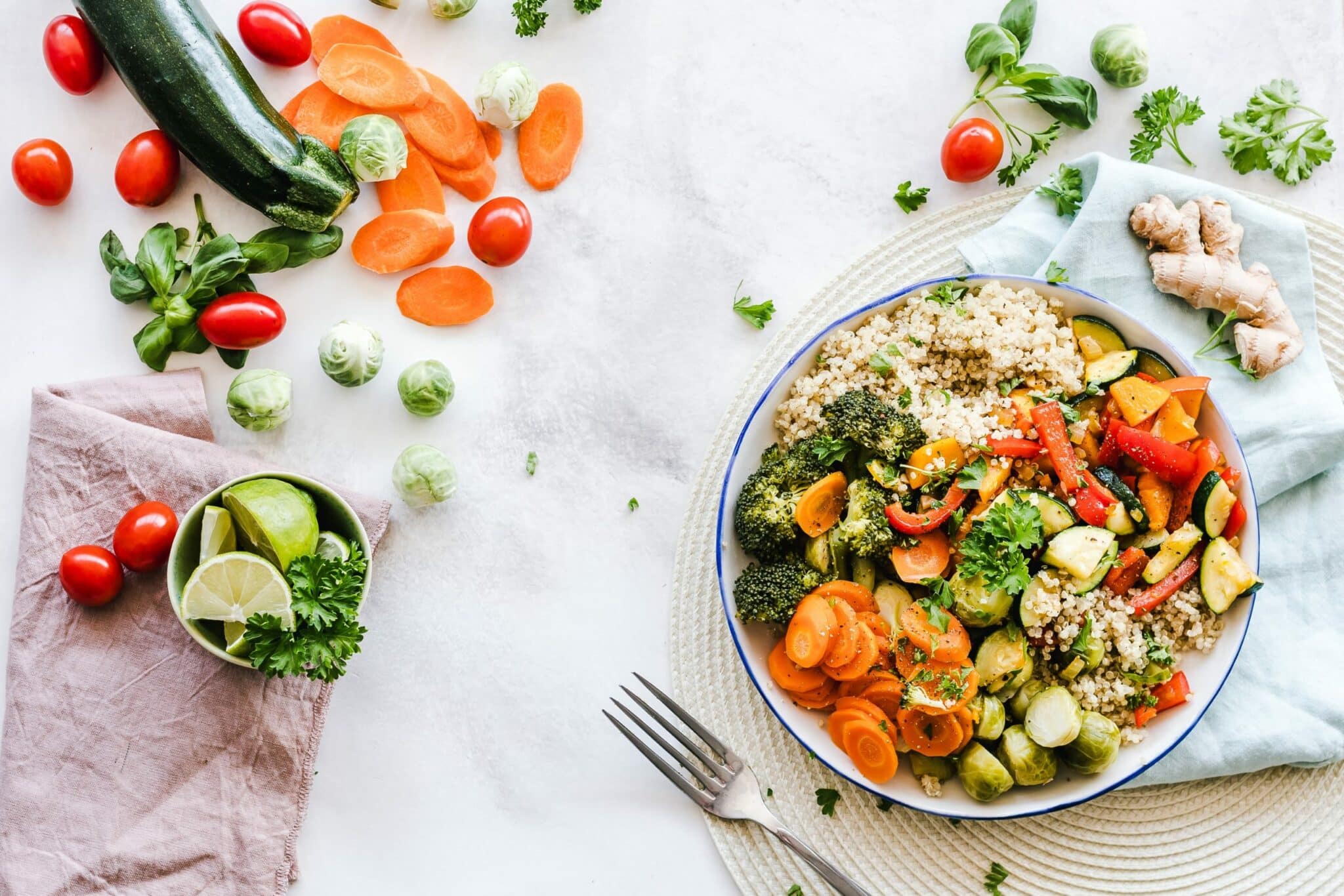 The carb cycling meal plan revolves around alternating how much carbohydrates you eat each day. And the procedure involves switching from high to moderate to low carb meals daily for some time. Though this diet plan is stipulated for five days, significantly to help newbies get in line, you can adopt this diet lifestyle for as long as 30 days. And it features recipes made with healthy carb foods, lean meats, legumes, fish, nuts, eggs, oils, leafy greens, and fruits.
Most users who benefit from carb cycling wish to keep a healthy weight, build body endurance, or improve their insulin and leptin sensitivity. But it's always best to do it after seeking counsel from a dietician. They'll give professional advice on how many calories are suitable for your body's daily needs and how best to merge them with your appetite variations. It's also best to note that the calorific values offered on this meal plan are a general assumption. As such, you can adjust it under the guidance of professional medical advice and adopt some recipes to fit your preference.
One main benefit noted from practicing this diet plan is a tremendous loss in weight. As carbohydrates are more prone to cause weight gain than fats, switching how much of it daily helps control the amount you eat. The plan is also a good way of improving muscle performance by supplying loads of glycogen on high-carb days. And the low-carb days further contribute to weight loss by pushing the body to burn more fat. Plus, you can also enjoy better blood sugar regulation, as the combined alternating may improve insulin sensitivity.
Meal Plan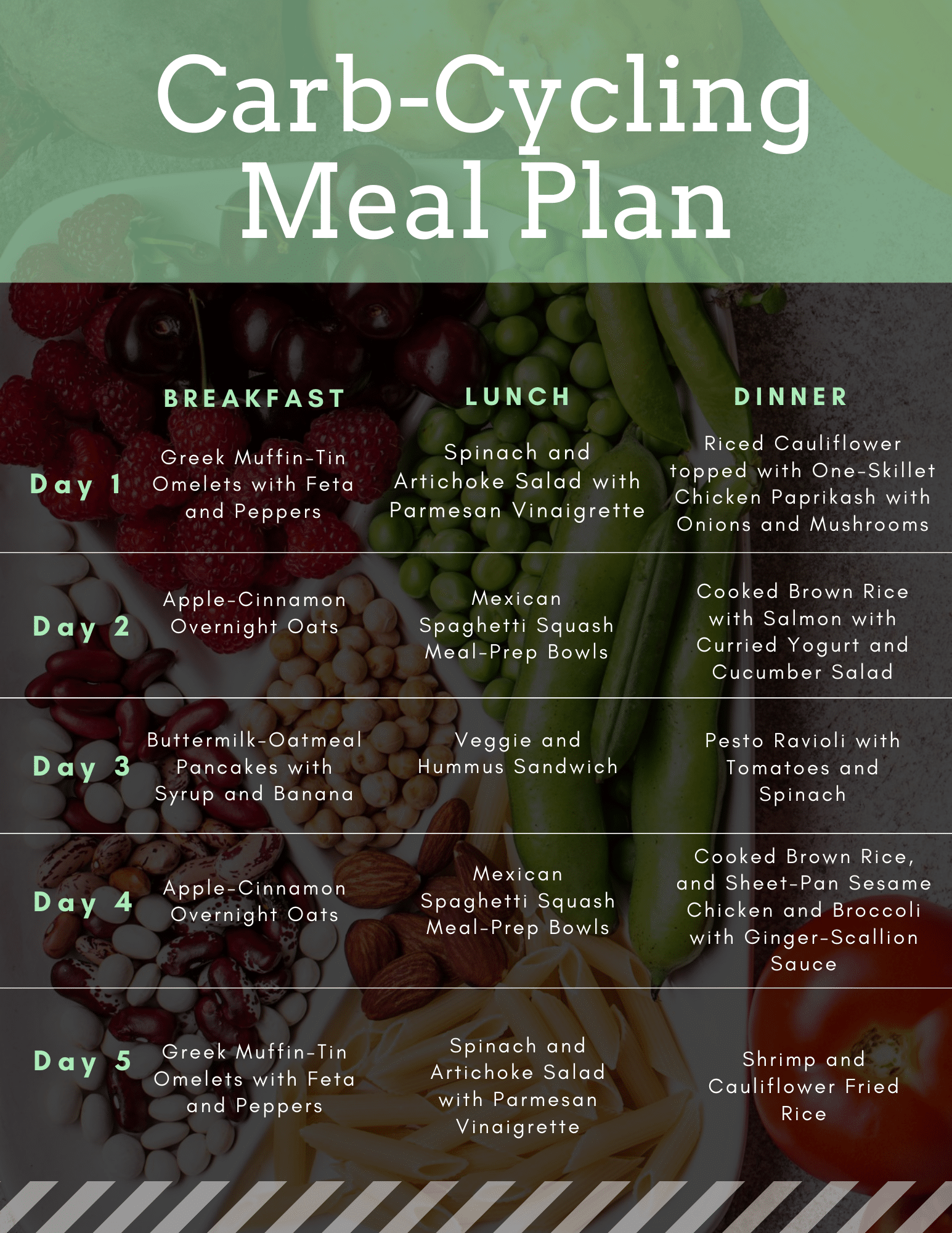 Day 1 (Low Carb, Rest: 30 to 50 grams)
Breakfast (7g carbs)
Lunch (12g carbs)

Dinner (12gcarbs)
Day 2 (Moderate Carbs, Light Workout: 100 grams)
Breakfast (41gcarbs)
Lunch (25gcarbs)

Dinner (30gcarbs)
In-between Snacks: Raspberries, almonds, and cheddar cheese
Day 3 (High Carbs, Heavy Workout: 200grams)
Breakfast (101gcarbs)
Lunch (65gcarbs)

Dinner (35gcarbs)
Day 4 (Moderate Carbs, Light Workout: 100 grams)
Breakfast (41gcarbs)

Lunch (25gcarbs)
Mexican Spaghetti Squash Meal-Prep Bowls
Dinner (34gcarbs)
Day 5 (Low Carbs, Rest: 30 to 50 grams)
Breakfast (7gcarbs)
Lunch (12gcarbs)
Dinner (10gcarbs)

Extra Tips
Stick to whole foods with complex carbohydrates on high-carb days. These types are also rich in fiber and promote energy burning by their digestion. Also, consider fruits and lean proteins on such days since the key is to replenish the carbs in your system.
You can eat raspberries, almonds, and cheddar cheese as in-between snacks during the cycle. This combination will add a daily dose of five to eight grams of carbs to your plan.
On low-carb days, focus more on leafy greens and loads of protein. Also, bulk up on foods rich in healthy fats.
Keep your carb cycling plan clean by avoiding refined sugars and processed sweeteners. These are loaded with other additives besides calories.
Also, use more spices than sauces for seasoning as the former tend to have a high-carb content. Examples of options to avoid include ketchup, BBQ sauce, and salad dressings.
Avoid flavored beverages during the period of your meal plan. Instead, replace with water, so the carb number stays on track. But if you'd prefer anything else, unsweetened coffee or tea can also work.
Certain items are considered extremely high in carbs and may cause an unhealthy relationship with food. So, you may want to consider avoiding them, especially during high-carb days. Common examples include pizza, white rice, French fries, tortilla and wraps, white pasta, white bread, sweet pastries, pancakes, and refined cereals.
The plan is to eat healthy during the carb cycling plan. But, you can attach some extra snacks on high-carb days if you crave foods that aren't allowed. Remember that you'd have to cut down on the total calorific count for the day, so you don't go beyond it.
Meat and Fish
Fruits
Grain and Grain Products
Vegetables and Legumes
Milk and Dairy
Seeds, Nuts, and Nut Products
Others
Chicken cutlets
Raspberries
Cheese ravioli
Onions
Feta cheese
Toasted pecans
Cooking spray
Ground turkey, 93% lean
Apples
Wheat germ
Red bell peppers
Low-fat milk
Chia seeds
Olive oil, extra-virgin
Salmon portions
Lemons
All-purpose flour
Oregano, fresh
Parmesan cheese
Almonds
Eggs
Chicken thighs, bone-in
Whole-wheat flour
Fresh spinach
Cheddar cheese
Pistachios
Ground pepper
Shrimp
Old-fashioned rolled oats
Kalamata olives
Almond milk, unsweetened
Toasted sesame seeds
White wine vinegar
Artichoke hearts
Queso fresco
Dijon mustard
Baby spinach
Nonfat buttermilk
Chicken broth, low-sodium
Red pepper
Ground cinnamon
Fresh parsley
Maple syrup
Spaghetti squash
Canola oil
Green bell peppers
No-salt chile-lime seasoning blend
No-salt canned diced tomatoes
Curry powder
Yellow summer squash
Brown sugar, lightly packed
Cucumbers
Baking soda
Cilantro
Baking powder
Grape tomatoes
Pesto
Broccoli
Sesame oil
Scallions
Avocado oil
Ginger
Rice vinegar
Riced cauliflower
White mushrooms
Garlic
The carb cycling meal plan is your comfort solution to eating well and keeping your weight. And if this is your goal, it's best to take advantage of it. You'll find this one to be of the best standard, having nothing but whole nutrient-dense foods. And its duration is simple, giving you enough time to adjust to the program and modify it to your preference.