Chinese Chicken with Noodles Recipe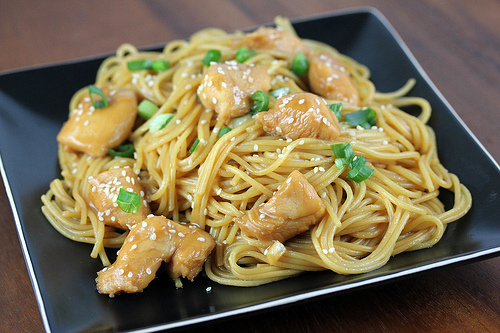 A dish that makes a great dinner for any night of the week is Chinese chicken with noodles. With this dish, there is no need to prepare rice as a side dish with your meal. Like most Chinese recipes, this dish is very easy to prepare and most of the work comes from prepping the sauce and chopping the ingredients. This recipe includes a marinated teriyaki flavored chicken with noodles that have a delicious sesame flavor. I like to serve the chicken on the side or on top of the noodles, instead of mixing it all together. The chicken itself is marinated in soy sauce, teriyaki sauce and other Asian flavored ingredients. The noodles are mixed with a soy sauce, sugar, and sesame oil mixture. This recipe for Chinese chicken with noodles makes a great meal and serves about four people. Enjoy.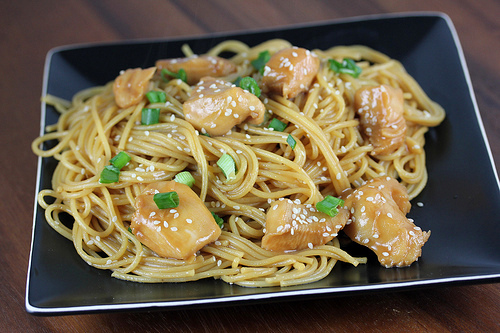 Ingredients:
1lb thin spaghetti
½ cup soy sauce
¼ cup sesame oil
1/3 cup sugar
3 green onions (thinly sliced)
¼ cup sesame seed
Chinese chicken-
¼ cup soy sauce
¼ cup teriyaki sauce
2 garlic cloves (minced)
¼ cup brown sugar
1 teaspoon fresh ginger (chopped)
4 boneless skinless chicken breasts (sliced into 1inch chunks)
sesame oil (for sautéing)
Cooking instructions: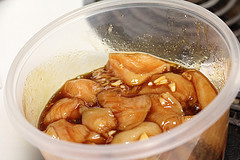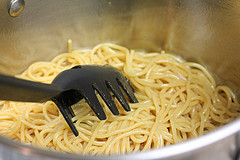 Step 1: In a large bowl mix together ¼ cup soy sauce, ¼ cup teriyaki sauce, garlic, ¼ cup brown sugar, and ginger.  Mix well and make sure the sugar has dissolved. Add the chicken and coat the chicken with the sauce. Cover and place into the refrigerator for 2-3 hours.
Step 2: To prepare sesame noodles—bring a large pot of lightly salted water to a boil. Cook noodles according to package directions. Drain and rinse the noodles. In a jar or sealable container add ½ cup soy sauce, ¼ cup sesame oil, and 1/3 cup sugar. Shake until well blended and the sugar has dissolved. Pour sauce over the pasta and toss to combine. Cover and set aside while the chicken is cooking.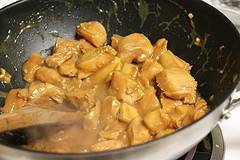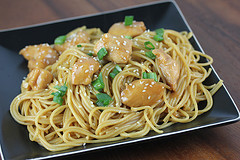 Step 3: Remove the chicken from the marinade and discard the marinade. Heat sesame oil in a large fry-pan or wok. Add the chicken and stir-fry in batches for about 10 minutes or until the chicken is fully cooked (the internal temperature has reached 165 degrees). Add more sesame oil as needed.
Step 4: Remove the chicken from the pan and serve the chicken over the sesame noodles. Garnish with sesame seeds and sliced green onions.
(Makes 4 Servings)