Honey Hot Wings Recipe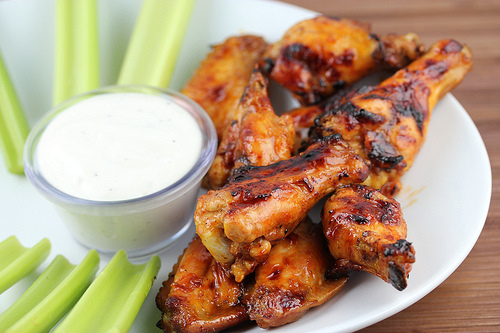 You pretty much cannot have a game day party without hot wings. These hot chicken wings are both sweet and spicy. The sauce is basically a sweet buffalo sauce. It combines hot sauce, butter, and honey. The wings are first seasoned with cayenne pepper, salt, and black pepper. The wings are then brushed with honey while grilling, tossed with the sauce mixture, and then placed back onto the grill for a couple minutes. You can adjust the amount of heat by the type of hot sauce you use and the amount of cayenne pepper you season the wings with. These honey hot wings go great served with blue cheese dressing. Enjoy.


Ingredients:
2lbs chicken wings (tips discarded)
1 teaspoon cayenne pepper
salt and ground black pepper (to taste)
1 cup honey
½ cup butter (melted)
½ cup hot sauce

Cooking Instructions: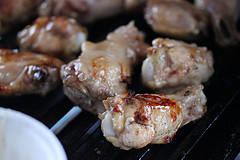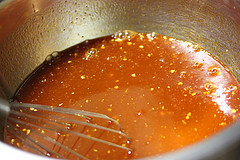 Step 1: Pre-heat an outdoor grill to medium heat and lightly grease grill grate. Wash wings and pat dry with paper towel. Season the wings with cayenne pepper, salt, and black pepper.
Step 2: Place chicken wings onto the grill and cook the wings until the internal temperature has reached 165 degrees (about 20-30 minutes depending on the size of the wings). Brush the wings with ½ cup of the honey while they are cooking.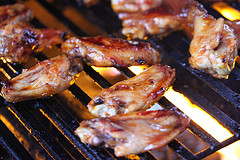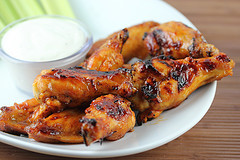 Step 3: In a small sauce pan melt the butter over low heat (you can also melt it in the microwave). Pour the butter into a large bowl and mix in the remaining ½ cup of honey and the hot sauce. Remove the wings from the grill and immediately toss them in the hot honey butter sauce to coat. You can serve them like this or return them to the grill and cook 1 minute per side to set the sauce.
(Makes 6 Servings)