Pizza Dip Recipe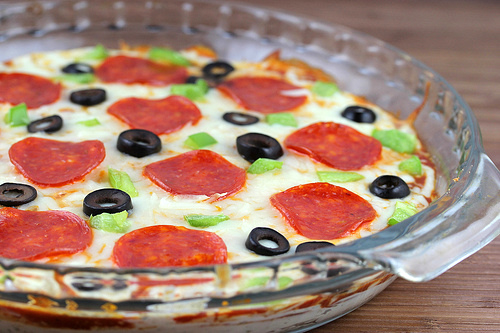 This pizza dip makes a great appetizer for parties. It takes all of your favorite pizza ingredients and puts them into a hot dip.  Anyone who enjoys pizza is sure to love this recipe. Best of all, It is not very hard to make; a cream cheese mixture is spread onto the bottom of a glass dish, topped with mozzarella cheese, parmesan cheese, and pizza sauce. The dip is then topped off with more cheese, pepperoni, green pepper, and black olives. You can add additional toppings as well such as chopped onion and mushrooms. The dip can then either be baked in the oven or it can be cooked in the microwave. This goes great with sliced French baguette bread or tortilla chips. Enjoy.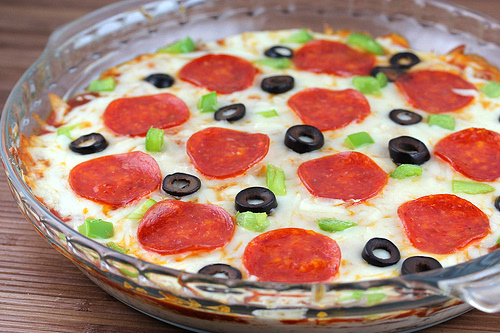 Ingredients:
1 (8 ounce) package cream cheese (softened)
½ teaspoon dried oregano
½ teaspoon dried parsley
¼ teaspoon dried basil
1 cup shredded mozzarella cheese
1 cup grated Parmesan cheese
1 cup pizza sauce
2 tablespoons green bell pepper (chopped)
2 ounces pepperoni sausage (chopped or sliced)
2 tablespoons black olives (sliced)
Cooking Instructions: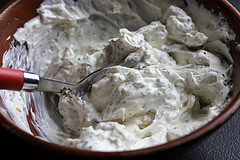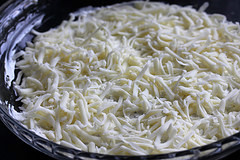 Step 1: In a small bowl mix together the cream cheese with oregano, parsley, and basil.
Step 2: Spread the mixture onto the bottom of a 9 inch glass pie plate (or shallow oven-safe/microwave-safe dish). Sprinkle ½ cup of mozzarella cheese and ½ cup of the parmesan cheese on top of the cream cheese mixture. Spread the pizza sauce over the top of the cheeses. Sprinkle the remaining ½ cup of parmesan and ½ cup of mozzarella cheese over the top of the sauce.  Top with pepperoni, green pepper, and black olives.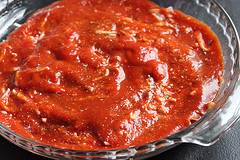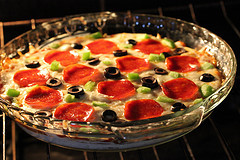 Step 3: Cover and microwave for 5 minutes. You can also place into the oven and bake at 350 degrees for 15-20 minutes.
(Makes 16 Servings)