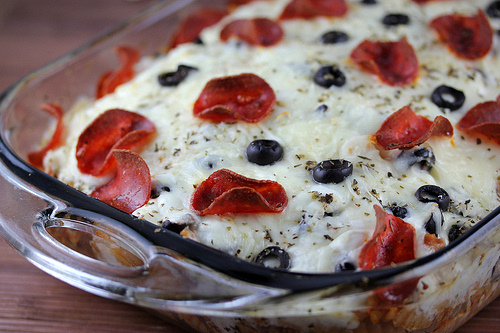 I never seem to get tired of casseroles, they are so easy to prepare and usually always turn out good. This recipe for pepperoni pasta bake is no different; it can be prepared quickly and the end result is amazing. This casserole consists of rotini noodles tossed with pasta sauce and Italian sausage. It is then topped with a layer of mozzarella cheese, cottage cheese, black olives and pepperoni. You can add additional ingredients as well such as ham, Canadian bacon, and cooked mushrooms. Before adding the pepperonis, I added an extra layer of mozzarella cheese on top. If you are looking for a simple casserole dish for dinner, this is perfect for you. Enjoy.


Ingredients:
1 (16 ounce) package uncooked rotini pasta
1lb ground Italian sausage
1 (16 ounce) jar pasta sauce
2 (12 ounce) containers cottage cheese
1 (2.25 ounce) can sliced black olives (drained)
12 ounces shredded mozzarella cheese
2 (3 ounce) packages slice pepperoni
Cooking Instructions: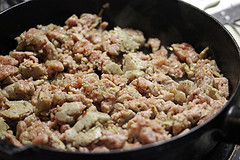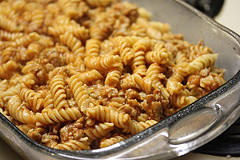 Step 1: Pre-heat the oven to 350 degrees. Lightly grease a 9×13" casserole dish. Bring a large pot of lightly salted water to a boil. Add the pasta to the pot and boil for 8 to 10 minutes or until al dente. Drain and set aside.
Step 2: Meanwhile, in a medium skillet over medium-high heat, cook the Italian sausage until evenly brown. Drain off an excess liquid.
Step 3: In the prepared casserole dish mix the cook rotini pasta, Italian sausage, and pasta sauce.
In a medium bowl mix the cottage cheese, sliced black olives, and mozzarella cheese. Spoon the cheese mixture over the pasta mixture. Top with pepperoni slices.
Step 4: Place into the oven and bake for 25 minutes at 350 degrees until bubbly and lightly browned.
(Makes 8 Servings)
If you enjoyed this article Subscribe to my RSS Feed.