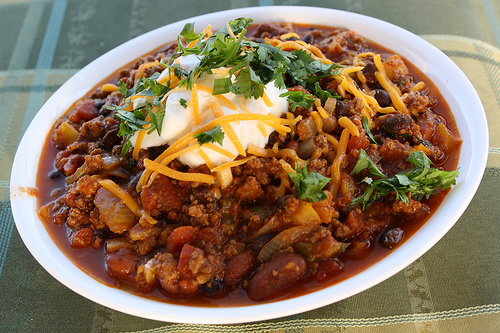 I know to some pumpkin turkey chili may sound a little odd, but surprisingly, it's really good. If you are worried about it having a strong pumpkin flavor, it does not. It is actually very pleasant. This is a great way to make good use of those fresh pumpkins this time of year. You can also use canned pumpkin if you prefer. The recipe itself is very basic; you can add additional spices such as cumin if you choose. It would also be a good idea to adjust the amount of chili powder to your liking; some people might like a little more seasoning. You can add beans if you like, I added a can of kidney beans and a can of black beans into the mix.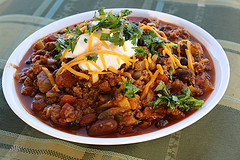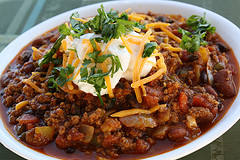 Ingredients:
1 tablespoon vegetable oil
1 cup onion (chopped)
½ cup green bell pepper (chopped)
½ cup yellow bell pepper (chopped)
1 garlic clove (minced)
1lb ground turkey
1 (14.5 ounce) can diced tomatoes
2 cups pumpkin puree
1 ½ tablespoons chili powder
½ teaspoon ground black pepper
1 dash salt
½ cup shredded cheddar cheese
½ cup sour cream
Cooking Instructions: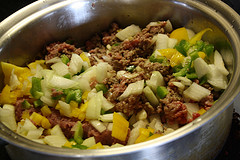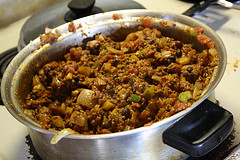 Step 1: Heat vegetable oil in a large skillet over medium heat. Add onion, green pepper, yellow pepper, and garlic. Sauté until vegetables are tender. Stir in turkey and cook until evenly browned. Drain and mix in tomatoes and pumpkin puree.
Step 2: Season with chili powder, salt and pepper. Reduce heat to low, cover and simmer for 20 minutes. When ready to serve top each bowl with cheddar cheese and sour cream.
(Makes 6 Servings)
If you enjoyed this article Subscribe to my RSS Feed.