"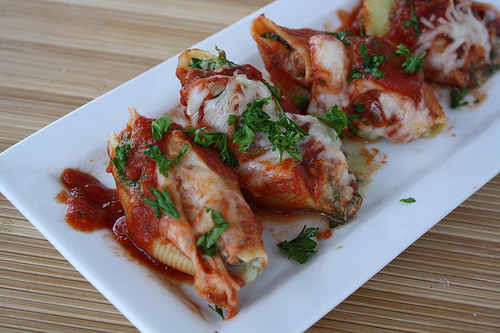 Sausage stuffed shells are a great way to make good use of those jumbo pasta shells. Using Italian sausage is something different from your normal hamburger or chicken stuffed shells. I also like the addition of lemon juice into the stuffing; I think it adds nicely to the flavor. Some of the stuffing ingredients include Italian sausage, chopped spinach, and parmesan and ricotta cheese. This is a fairly easy recipe, the hardest part is stuffing the shells. If you have an extra hand in the kitchen, it would be wise to get some help. This recipe can be on the table in about an hour. Serve with garlic bread. Enjoy.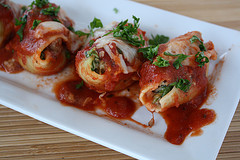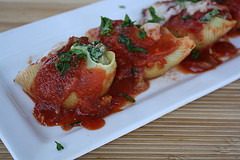 Ingredients:
1 (16 ounce) package jumbo pasta shells
½ pound Italian Sausage
1 (10 ounce) package frozen spinach (thawed, drained and squeezed dry)
1 cup ricotta cheese
1 egg
3 garlic cloves (crushed)
½ lemon (juiced)
¼ cup grated parmesan cheese
salt and pepper (to taste)
½ teaspoon dried oregano
2 cups spaghetti sauce
2 cups shredded mozzarella cheese
Cooking Instructions: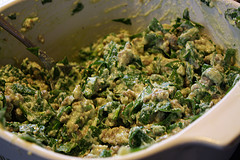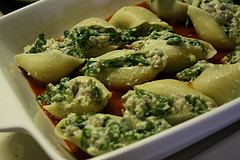 Step 1: Bring a large pot of salted water to a boil. Cook pasta shells according to package directions (about 10 minutes). In a large deep skillet add sausage and cook over medium high heat until fully cooked. Chop up sausage into small pieces with a spatula. Drain.
Step 2: In a large bowl combine cooked sausage, spinach, ricotta cheese, egg, garlic, lemon juice, and parmesan cheese. Season with salt, pepper, and oregano. Mix well.
Step 3: Pre-heat the oven to 350 degrees. Lightly grease a 9×13" baking dish and pour a thin layer to spaghetti sauce onto the bottom of the baking dish. Stuff pasta shells with the sausage mixture and place into the baking dish. Top the shells with spaghetti sauce and mozzarella cheese.
Step 4: Place into the oven and bake at 350 degrees for 25-30 minutes or until the pasta is heated through and the cheese has melted.
(Makes 6 Servings)
If you enjoyed this article Subscribe to my RSS Feed.