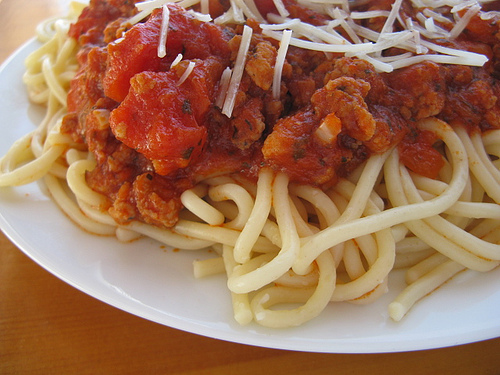 Spaghetti is probably the most popular Italian dish. I used to use store bought spaghetti sauce quite a bit but now that has changed. I started experimenting with different sauce recipes until I found one that was perfect for me. Spaghetti sauce is not very hard to make and it's all about the simmer. The longer you simmer the sauce for, the better it will taste. The sauce should be simmered for a minimum of 1 hour, but I would recommend about 1 ½-2 hours. The recipes calls for 2 cups of water in the sauce, if you are only simmering for 1 hour, I would only use 1 cup. Serve with parmesan cheese and garlic bread. What could be better? Enjoy.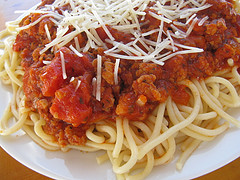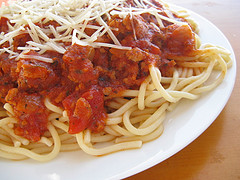 Ingredients:
2lbs Italian sausage
1 small onion (chopped)
4 garlic cloves (minced)
1 (28 ounce) can diced tomatoes
2 (6 ounce) cans tomato paste
1 (15 ounce) can tomato sauce
2 cups water (if simmering for only 1 hour, 1 cup)
3 teaspoons basil
2 teaspoons dried parsley flakes
1 ½ teaspoons brown sugar
1 teaspoon
¼ teaspoon crushed red pepper flakes (or more)
¼ teaspoon pepper
¼ cup red wine
Cooking Instructions: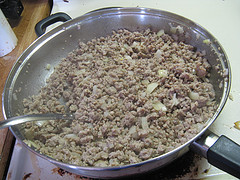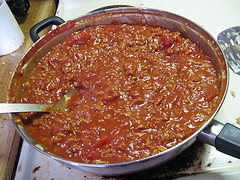 Step 1: In a large pot (I used a very big skillet) brown Italian sausage, breaking it up into bits as you stir. Add onions and continue to cook until they have become soft. Add garlic, diced tomatoes, tomato paste, tomato sauce, and water. Mix well.
Step 2: Add basil, parsley, brown sugar, salt, red pepper flakes, and black pepper. Mix well and bring to a slow boil. Stir in red wine.
Step 3: Simmer on low stirring frequently for at least 1 hour.  Serve over cooked spaghetti noodles.
(Makes 10 Servings)
If you enjoyed this article Subscribe to my RSS Feed.