Here's a fresh take on Mexican salsa — avocado cucumber salsa. It's refreshing, satisfying, and bright in flavor. And, if you're quick with a knife, you can put this fun appetizer together in about 10 minutes.
Why make avocado cucumber salsa?
I first made avocado cucumber salsa to bring as an appetizer to a party. It was a hit. More filling than a traditional salsa, thanks to the avocado, and plays perfectly with salty tortilla chips.
Some reasons to try this avocado cucumber salsa are:
You need an appetizer, and you want something easy but also interesting.
You're looking for a more sophisticated alternative to canned salsa.
You're craving a dip that's crunchy, tangy, and limey.
You're serving up grilled chicken tacos or grilled fish tacos and you want a condiment that'll take your dish to the next level.
You have a big bag of tortilla chips and need a reason to eat them.
Someone asked you to to bring snack foods to a Super Bowl party and you're not the type to make chips and queso.
How to prepare avocado cucumber salsa
Fresh salsas, generally, are easy to prepare. The basic steps are: Gather your washed ingredients, chop or dice them, toss them in a bowl with lime juice, and add salt to taste. This recipe has the added step of seeding your English cucumbers so your salsa isn't too soggy.
Prep tips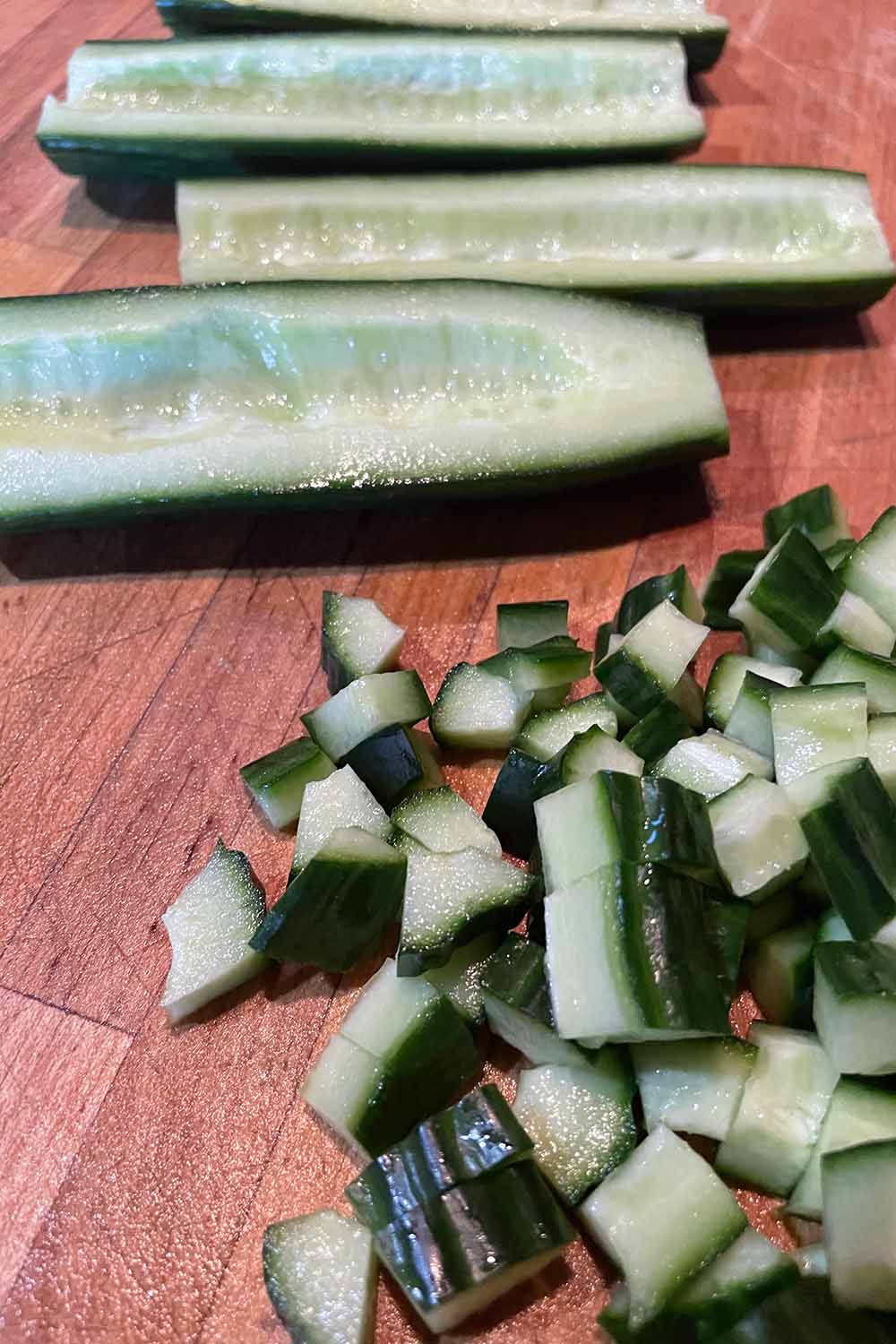 Don't peel the cucumbers. English cucumbers have a delicate, edible skin — so there's no need to peel them.
To seed your cucumbers, start by cutting them in half down the long side. Then, scrape the seeds out gently with a small spoon.
Dice the onions and cucumbers into small, even pieces. You'll want your avocado chunks to be small also. This way, a chip can hold a complete bite of the salsa, with all the ingredients in play.
Wear gloves to chop your peppers — especially if you wear contact lenses. The spice from peppers is hard to wash off and can be irritating if you inadvertently stick a finger in your eye.
You can adjust the spice level here to suit your taste by omitting or reducing the jalapeno. You can swap in another type of pepper.
Substitutions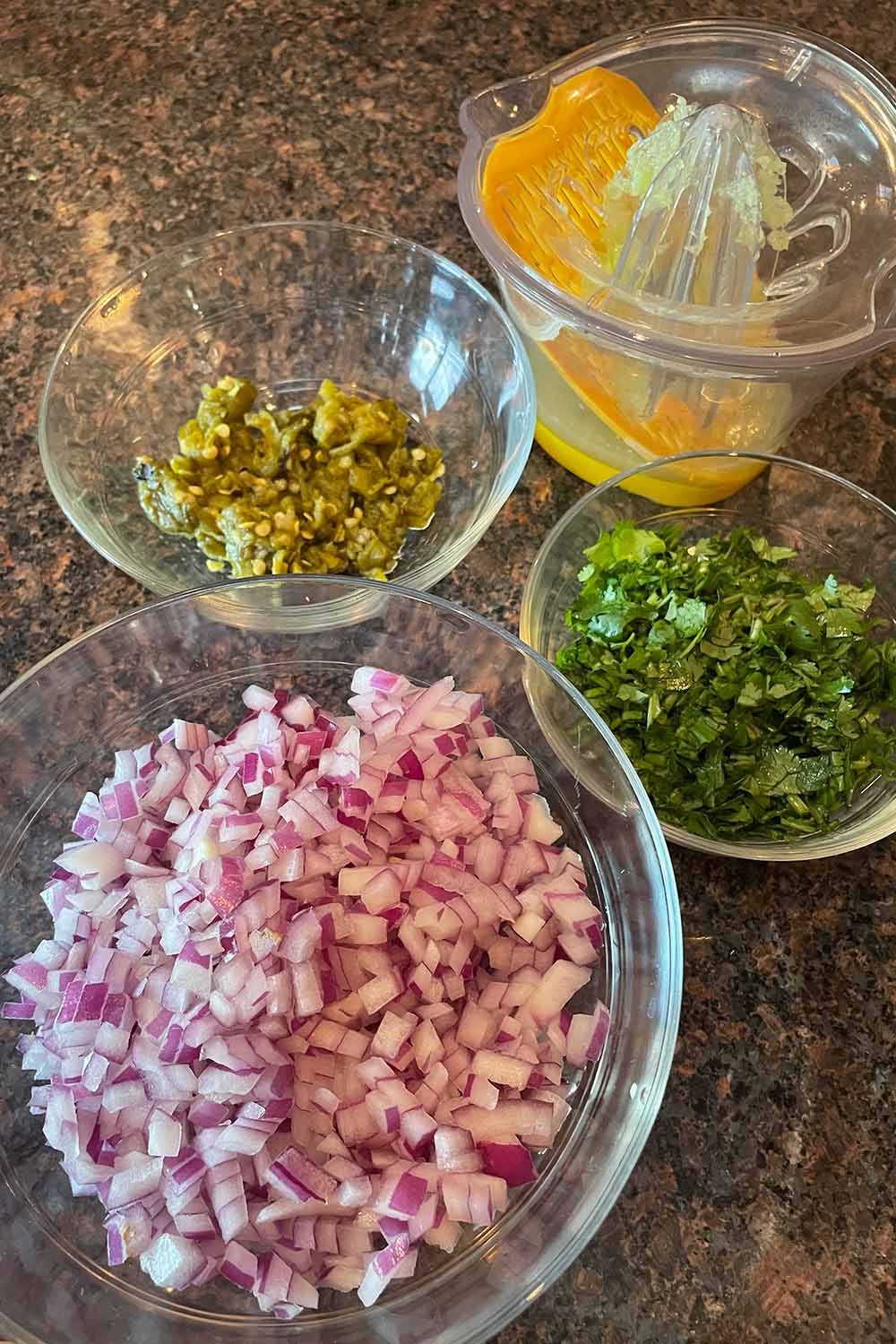 You can use any other pepper instead of the jalapeno. You'll see in the recipe video and photos that I used roasted green chiles (which I already had in my freezer).
You could swap in sliced green onion for the red onion if you want a mild onion flavor.
In a pinch, you could use regular cucumber. These aren't as sweet as English cucumbers. You will want to peel them.
How to serve avocado cucumber salsa
Serve this salsa with tortilla chips, crackers, or small toasts (like a bruschetta). You could use use carrot chips, green bell pepper, or red bell pepper as dippers.
How to keep your avocado cucumber salsa fresh
Avocado oxidizes quickly when in contact with air. The lime juice in the salsa slows that process, but doesn't stop it. So you'll want to take extra measures to keep your avocados from turning brown before they get eaten. Try these tips to keep your salsa fresh:
Delay cutting open the avocado. If you need to prepare the salsa well before serving time, mix all the ingredients except for the avocado. Then quickly dice the avocado and mix it in when you're ready to serve.
Keep the prepared salsa covered with plastic wrap. Make sure your plastic wrap sits directly on top of your salsa — rather than over the top of a bowl. You want to minimize that air that comes in contact with the salsa.
Yield: 4 servings
Avocado Cucumber Salsa Recipe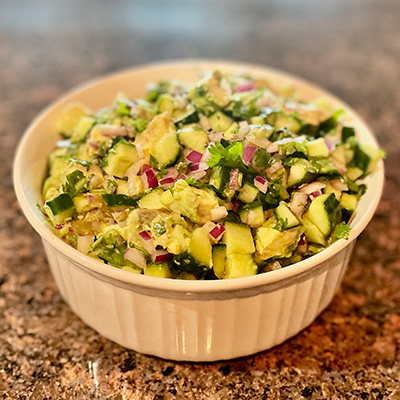 A fresh, tangy, limey salsa with no tomatoes.
Ingredients
1 medium English cucumber (seeded and diced)
2 medium firm-ripe avocados (peeled, pitted, and diced
1/4 red onion (diced)
Juice of 2 limes (about a ¼ cup)
Salt (to taste)
1/4 cup fresh cilantro (chopped)
3 jalapeno peppers (seeded and finely chopped)
Instructions
In a medium bowl combine cucumber, avocado, red onion, fresh cilantro, and jalapeño peppers.
Add the lime juice and season with salt. Gently toss to combine.
Taste and add more salt or lime juice as needed.
Serve within an hour of preparing.
Nutrition Information:
Yield:
4
Serving Size:
1
Amount Per Serving:
Calories:

136
Total Fat:

8g
Saturated Fat:

1g
Trans Fat:

0g
Unsaturated Fat:

6g
Cholesterol:

0mg
Sodium:

188mg
Carbohydrates:

19g
Fiber:

5g
Sugar:

10g
Protein:

2g
Nutrition information isn't always accurate.