Grilled Chicken for Tacos Recipe

Shredded chicken is great but if you are looking for something different for tacos, try grilling the chicken. For this recipe you can either use chicken breasts or chicken thighs. The chicken is marinated in a homemade taco seasoning and lime juice mixture and then grilled and sliced for tacos. Chances are you probably have a lot of ingredients on hand for this recipe already since it uses very common spices. You can top these tacos with your favorite condiments such as cheese, lettuce, tomato, guacamole. Enjoy.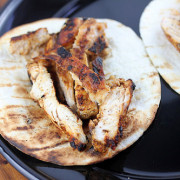 Grilled Chicken for Tacos
Ingredients:
3 boneless skinless chicken breasts
juice of half a lime
¼ cup extra virgin olive oil
1 tablespoon chili powder
1½ teaspoons ground cumin
1 teaspoon salt
½ teaspoon garlic powder
½ teaspoon granulated sugar
½ teaspoon onion powder
½ teaspoon dried oregano
½ teaspoon paprika
¼ teaspoon pepper
¼ teaspoon cayenne pepper
Directions:
In a small bowl combine the dry spices and stir until well mixed. In a large bowl coat the chicken breasts with lime juice and olive oil. Sprinkle the chicken in the bowl with the taco seasoning on all sides. Allow the chicken to marinate for 30 minutes.
Preheat and outdoor grill to medium-high heat. Add the chicken breasts and cook for about 4 minutes per-side, or more depending on the thickness of the chicken breasts. Grill until the chicken is fully cooked (the internal temperature has reached 165 degrees F.). Remove the chicken from the grill and slice the meat. Use for tacos or burritos.