Beef Chimichangas Recipe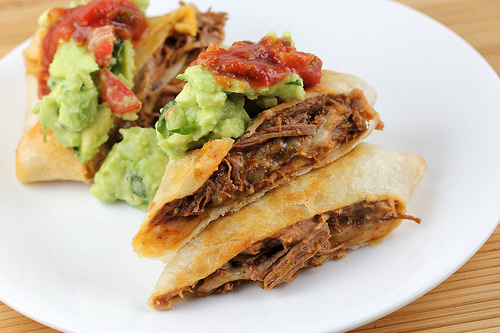 Beef chimichangas are one of my favorite Mexican dishes to make using the slow cooker. Although they do require a bit of work, in the end it's well worth it.  The cooking process consists of a beef roast, beef broth and a few seasonings being added to the slow cooker. The beef is then shredded and placed into flour tortillas with cheese and wrapped up. These can either be baked or fried in oil. I prefer the frying method but baking is good as well. To bake them, simply brush them with butter on both sides, place onto a baking sheet and bake for 8 to 10 minutes (until golden brown) at 500 degrees. You can serve these with various condiments such as salsa, guacamole, lettuce, tomato, and sour cream. If you would prefer chicken instead of beef, check out my recipe for Chicken Chimichangas. Enjoy.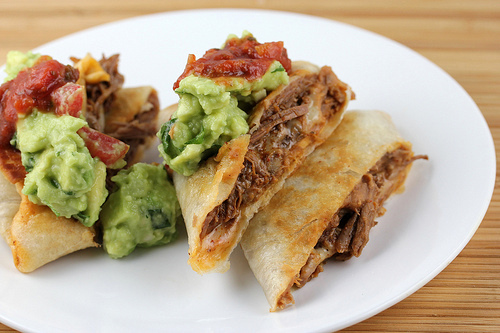 Ingredients:
2lbs boneless skinless chuck roast (trimmed of fat)
1 ½ cups beef broth
3 tablespoons red wine vinegar
2 tablespoons chili powder
1 teaspoon ground cumin
4 (8 inch) flour tortillas
oil (for frying)
1 cup shredded  Monterey Jack cheese
Cooking Instructions: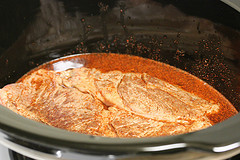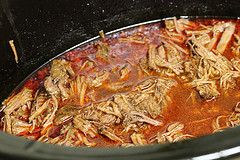 Step 1: In a bowl combine beef broth, red wine vinegar, chili powder, and ground cumin.
Heat 1 tablespoon of oil in a large deep skillet over medium heat. Place in beef roast and brown on both sides (about 5 minutes per side).  Place beef roast into the slow cooker, and pour the beef broth mixture over the roast. Cover and cook on low until the meat is very tender (about 6-8 hours on low).
Step 2: Allow the meat to cool and then shred it into pieces using 2 forks. Mix with the juices from the slow cooker.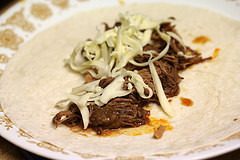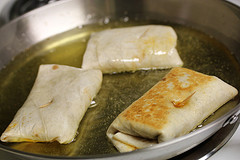 Step 3: Using a slotted spoon, spoon equal amounts of the beef down the center of each tortilla, top with shredded Monterey jack cheese. Roll up the tortillas while tucking in the sides. Secure each of the wrapped tortillas with a toothpick.
Step 4: Heat about ½ inch of oil in a large skillet over medium-high heat and fry the tortillas, turning once until golden brown on both sides. Drain on paper towels.
(Makes 4 Servings)