Chinese Coconut Shrimp Recipe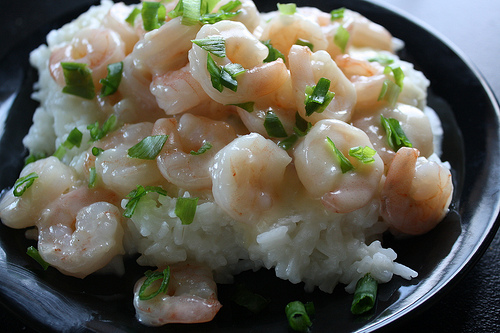 I had a few requests for the coconut shrimp from the Chinese buffet. I have yet to actually see this on a buffet here in Michigan so hopefully I came close. This is not like your normal coconut shrimp, which is breaded but rather shrimp in a coconut sauce. The sauce has ingredients such as coconut milk, heavy cream, amaretto liquor, sugar, coconut and vanilla extracts. I know using extracts in a dish like this might seem a little strange but I thought the flavor was pretty good. With that being said, this dish is probably not for everyone. If you don't like sweet dishes, you probably will not enjoy this. You could of course, cut back on the sugar or add none at all.  The original recipe did not call for salt and pepper but I felt it needed seasonings. Let me know what you think. Enjoy.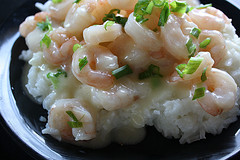 Ingredients:
1lb jumbo shrimp (peeled and deveined with tails off)
Salt and pepper
1 tablespoon olive oil
1 green onion (chopped)
1 tablespoon amaretto liquor
½ cup coconut milk
¼ cup heavy cream
2 tablespoons sugar (or less)
1 teaspoon coconut extract
1 teaspoon vanilla extract
Cooking Instructions: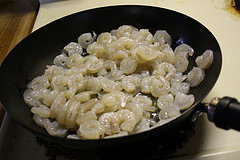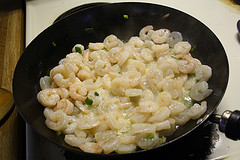 Step 1: In a wok heat olive oil over medium-high heat. Season shrimp with salt and pepper. Add shrimp and sauté for 2-3 minutes. Add green onions and amaretto liquor. Cooking for another 1-2 minutes until the shrimp begins to caramelize.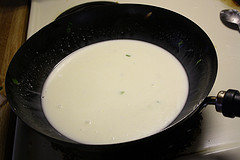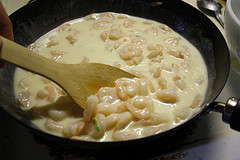 Step 2: Remove the shrimp from the pan and set aside. Add to the wok- coconut milk, heavy cream, and sugar. Bring to a boil, reduce heat and simmer (stirring occasionally) until the sauce is reduced by half (about 6 minutes).
Step 3: Add shrimp back into the wok and add vanilla and coconut extracts. Simmer for another 1-2 minutes and serve.
(Makes 4 servings)