Southern Fried Chicken Recipe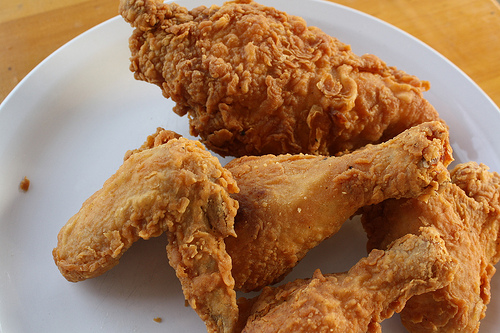 Southern fried chicken is an American favorite. Here is how to make fried chicken at home with a deep fryer. I know I always enjoy getting a big bucket of KFC and this is just as good if not better. The chicken pieces are first seasoned, then dipped in a hot sauce/egg mixture and then breaded with flour, baking powder and salt. Don't let the amount of hot sauce scare you, it's actually is not very spicy at all. I used Tabasco sauce myself. Feel free to add any additional spices to the flour mixture.  A deep fryer for a very deep pot is required for frying. If you don't want to use whole cut up chickens, this would also be perfect for chicken strips! This fried chicken comes out perfectly crispy and delicious. Enjoy.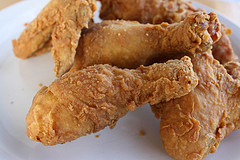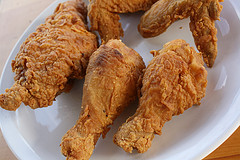 Ingredients:
2lbs cut up chicken
Oil (for frying)
Seasoning-
1 ¼ teaspoons ground black pepper
1 ½ teaspoons salt
¾ teaspoon garlic powder
Sauce-
4 eggs
1/3 cup water
1 cup hot sauce
Breading-
2 cups all purpose flour
1 tablespoon baking powder
¼ teaspoon salt
Cooking Instructions: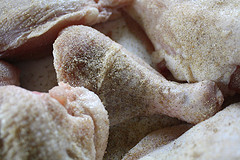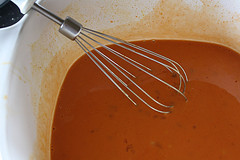 Step 1: Heat oil in a deep fryer to 350 degrees. In a large bowl beat eggs and water. Add hot sauce and whisk together.
Step 2: In small bowl combine ground black pepper, salt and garlic powder. In another bowl or pie plate combine flour, baking powder and salt.
Step 3: Pat dry chicken pieces with a paper towel. Sprinkle chicken pieces generously on both sides with the seasoning mixture.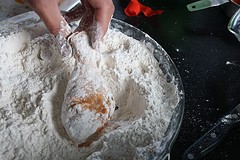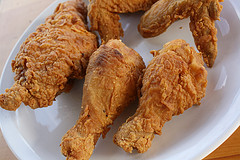 Step 4: Dip chicken pieces into the hot sauce mixture and coat thoroughly. One piece at a time, roll chicken pieces in the flour mixture and drop into the deep fryer. Don't over load the deep fryer with chicken. Fry chicken until brown and crisp (dark meat will take about 14 minutes, white meat about 10 minutes). A good way to tell if it's done is to pierce the deepest part of the bone with a fork, if the juices run clear, it's done. Drain on paper towels. Repeat until all chicken is fried.
(Makes 4 Servings)