Coconut Shrimp Recipe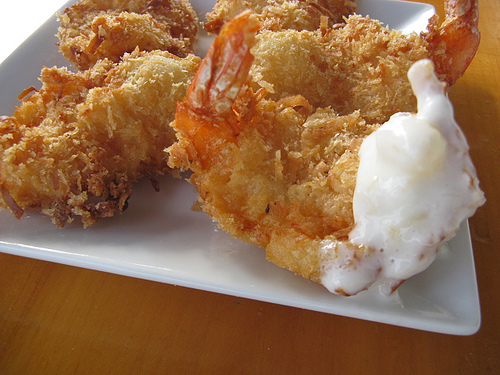 Coconut shrimp has been on my must try list for awhile now. I had wanted to make it for along time but I couldn't find Panko breadcrumbs anywhere! I live in a pretty small area and certain items can be extremely hard to find. I checked the local grocery stores and even the Asian sections at others, eventually I just ended up ordering them off the internet. I must say – it was well worth the wait. The shrimp turned out delicious with great coconut flavor. The shrimp in this recipe are butter flied so this may take a little time; it might be a good idea to get an extra hand if necessary. The shrimp are then rolled in flour, dipping in a batter and rolled in a breadcrumb/flaked coconut mixture. The dipping sauce, which is basically a mixture of crush pineapple, pina colada drink mix, and sour cream has outstanding flavor. As you can probably tell this recipe does take a little time but its well worth it. Enjoy.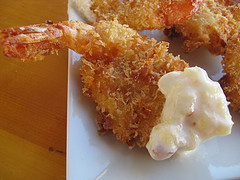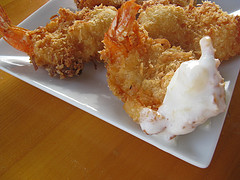 Ingredients:
Canola oil (for deep frying)
½ lb large uncooked shrimp (peeled and deveined)
1 ½ cups all purpose flour (divided)
2 tablespoons sugar
¼ teaspoon salt
1 cup milk
1 cup Panko Japanese style breadcrumbs
½ cup flaked coconut
Dipping Sauce-
½ cup sour cream
¼ cup pina colada non-alcoholic drink mix
1/4 cup crushed pineapple (canned)
2 tablespoons sugar
Cooking Instructions: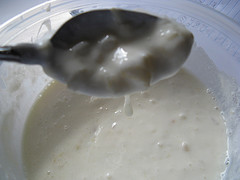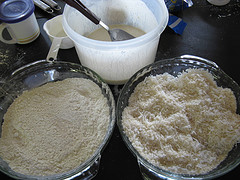 Step 1: In a bowl combine all the ingredients for the dipping sauce, mix well. Cover and refrigerate until needed.
Step 2: In a medium bowl mix ¾ cup of flour, and add milk and mix well. Let batter sit for a few minutes. In another bowl or pie plate mix another ¾ cup of flour, sugar and salt. In a third bowl mix Panko breadcrumbs and flaked coconut.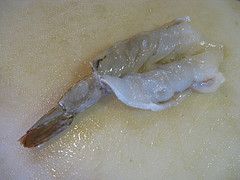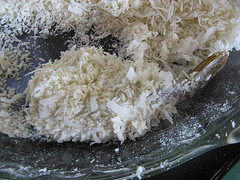 Step 3: Butterfly each shrimp. Use a sharp knife and cut through the back of the shrimp (where the vein was) so you can spread it opened. Leave the tail intact.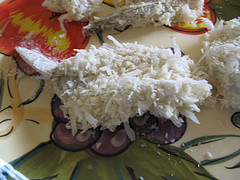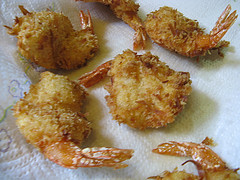 Step 4: One by one dip each shrimp in the flour mixture, then the batter mixture and then the breadcrumb/coconut mixture. Coat evenly.
Step 5: Deep fry the shrimp in batches at 350 degrees for 2-3 minutes or until golden brown. Drain on paper towels. Serve with dipping sauce.
Tags: cooking, recipes, food and drink, recipe