Oatmeal Cookies Recipe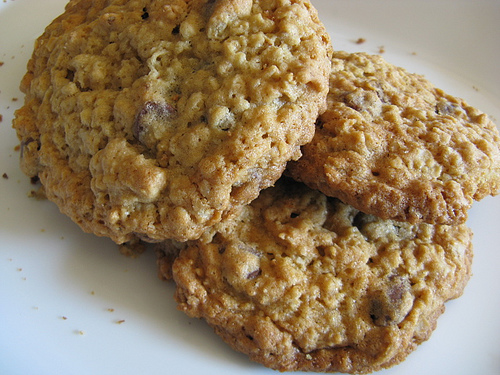 Do you have a bunch of oatmeal sitting around? There's no better way to make good use of it than with Oatmeal Cookies! These crispy, chewy and slightly crunchy cookies are sure to impress almost anyone. Unlike some other recipes, this recipe uses real oats, not quick oats or any other special variety. The original recipe calls for raisins but I used chocolate chips instead. Use whichever you want, I have nothing against raisins but chocolate chips are better! If you want you can also add chopped nuts into the recipe. These cookies are very easy to make and you will be eating them in no time. If you are looking for a great cookie recipe, give these a try! Enjoy.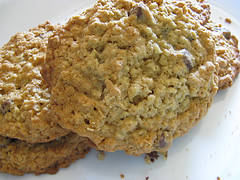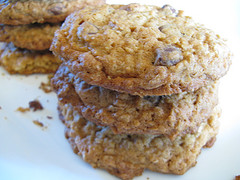 Ingredients:
2 cups all-purpose flour
1 teaspoon baking soda
1 teaspoon baking powder
1 teaspoon kosher salt
1 cup butter (softened)
1 cup sugar
1 cup dark brown sugar
2 large eggs
2 teaspoons vanilla extract
3 cups oats
1 ½ cups chocolate chips or raisins
Cooking Instructions: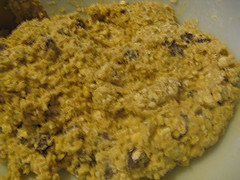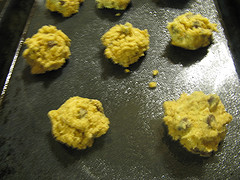 Step 1: Preheat the oven to 350 degrees. In a bowl mix together flour, baking soda, baking powder and kosher salt. Set aside.
Step 2: Beat together on low speed, butter, sugar, brown sugar, eggs and vanilla. Increase the beating speed and beat together until fluffy.
Step 3: Stir in the flour mixture into the butter mixture until no flour is visible. Stir in oats and chocolate chips.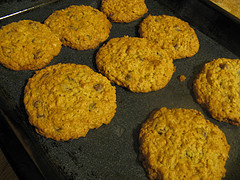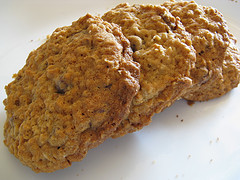 Step 4: Fill a cookie scoop or a tablespoon with dough. Drop one by one onto a greased cookie sheet. Bake 11-13 minutes until golden but still moist inside. Remove from the oven and fully cool.
Tags: cooking, recipes, food and drink, recipe, baking