Forget about the box mixes, be adventurous and make homemade buttermilk pancakes! There are literally tons of different ways to make pancakes but you can't go wrong with the classic buttermilk. Buttermilk pancakes are some of the lightest and fluffiest pancakes you will ever eat and they are so delicious. If you have never cooked pancakes before don't let the process intimidate you, making pancakes are very easy and in no time at all, you will be a pro at it. You want the pancakes to cook rather slowly so they don't burn (black pancakes don't taste very good J) and so they are cooked all the way through without burning the outside. The process is simple, basically mix the batter, pour and flip. If you're looking for a fast and delicious breakfast this recipe is for you, and after all, what would breakfast be without pancakes?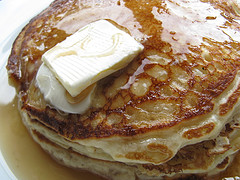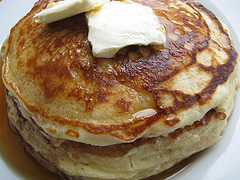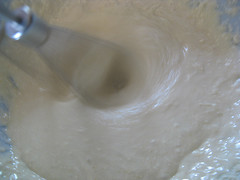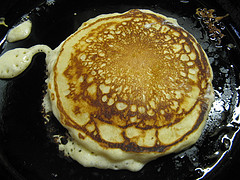 Print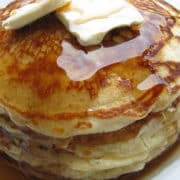 Buttermilk Pancakes Recipe
---
2

eggs

2 cups

flour

2 tablespoons

sugar

2 teaspoons

baking powder

1 teaspoon

baking soda

1 teaspoon

salt

2 cups

buttermilk

4 tablespoons

butter

½ teaspoons

vanilla extract

oil or cooking spray (for cooking)
---
Instructions
In a large bowl beat eggs. Add buttermilk, butter, and vanilla and mix well. Add flour, sugar, baking powder, baking soda, and salt. Mix well until smooth and let the batter sit for a few minutes.

Heat griddle or pan over medium heat. Brush lightly with oil or spray with cooking spray. You can test to see if the pan is hot enough by adding a few drops of water, if or when the drops start to dance its hot enough.


Pour a ¼ cup of batter onto the griddle. Cook on the first side until bubbles that from start to pop. You can also gently lift up the pancake to make sure the bottom is not overcooking if it is the pan may be too hot and you will need to adjust the heat. Flip the pancake over with a spatula and cook until golden brown. Repeat until all the batter is gone.

Tags: cooking, recipes, food and drink, recipe