Breaded Shrimp Recipe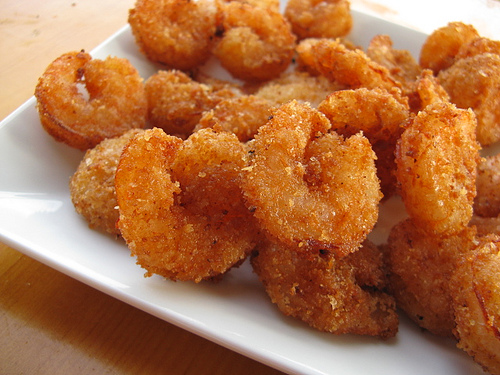 One of my favorite things to order at a restaurant is a basket of breaded shrimp. I love seafood and when prepared correctly it has great flavor. Unfortunately, most frozen breaded shrimp from the store tends to be very disappointing. That's where this recipe comes into play; here I have for you a simple and easy way to make perfectly crispy breaded shrimp at home. If you want you can butterfly the shrimp. I would recommend using larger shrimp as they are easier to work with but I actually used medium shrimp for this article. The method is very simple – the shrimp are first dipped in a light batter, and then rolled in a bread crumb mixture, repeated one time and then deep fried. That's it; it's as easy as that. For the bread crumb mixture I added seasonings such as garlic and onion powder. Many other seasonings would go great with this as well so feel free to add anything you like. Serve your favor shrimp dipping sauce and fries. Enjoy.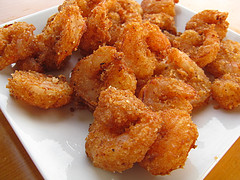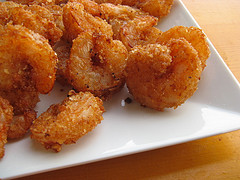 Ingredients:
1lb large shrimp (peel and deveined,  and butterflied if you choose)
4 cups water
1 ½ cups corn starch
2 eggs
2 cups breadcrumbs
¾ teaspoon garlic powder
¾ teaspoon onion powder
Oil (for deep frying)
Cooking Instructions: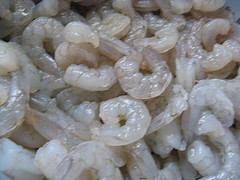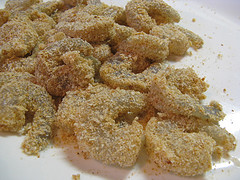 Step 1: In a large bowl mix water, cornstarch and eggs. On a plate or using a shaker bag mix breadcrumbs, onion and garlic powder.
Step 2: Dip the shrimp into the cornstarch mixture until completely coated and then roll them in the bread crumb mixture. Stir the cornstarch batter, and then dip the shrimp back into the mixture and roll in breadcrumbs once more.
Step 3: Deep fry shrimp in batches until golden brown. Drain on paper towels.