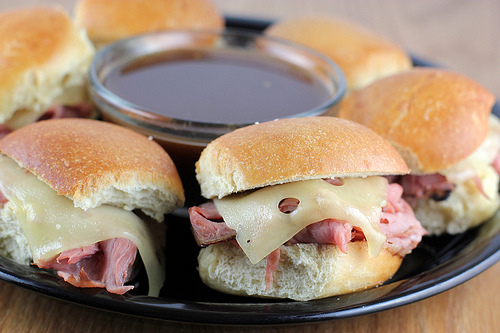 French dip sliders, just like the ones at Applebee's! There is something about roast beef and Swiss cheese that is just amazing. This recipe uses deli roast beef so there is no need for a slow cooker. I know what you're thinking, "but what about the Au Jus?" After all, what would French dips be without the Au Jus?  That won't be a problem though because in this recipe you can make your own Au Jus without the use of a slow cooker. This process is done by simmering a few ingredients in a saucepan. These sliders make a great appetizer for parties or at home. Enjoy.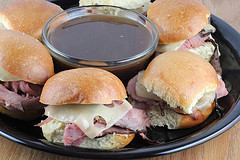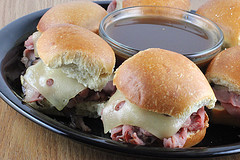 French Dip Sliders
Prep time: 15 minutes
Cook time: 20 minutes
Ingredients:
Sliders-
24 slider rolls(or dinner rolls, ect)
24 slices deli roast beef
24 slices swiss cheese
Au Jus-
2 cups water
1 tablespoon better than bouillon beef base
2 teaspoons better than bouillon beef base
1/2 stalk celery
1/2 small onion
1 pinch thyme
salt and pepper (to taste)
Cooking Instructions: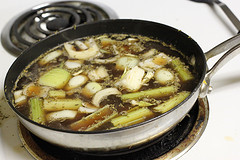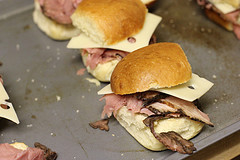 Step 1: To make the Au Jus- in a saucepan combine water, beef base, celery, onion, thyme, salt and pepper. Simmer until vegetables are tender. Strain and places into small bowls for serving.
Step 2: Pre-heat the oven to 350 degrees. Split the slider rolls in half. Lay the bottom half of a slider roll on a baking sheet. Top with a folded slice of roast beef, top with Swiss cheese. Place the top half of the slider roll on top of the cheese. Repeat until all of the rolls are used up. Place into the oven and bake until cheese has melted. Serve with Au Jus.
Yield: (5 Servings)
If you enjoyed this article Subscribe to my RSS Feed.