If you enjoy both pizza and grilled cheese sandwiches this recipe is perfect for you. Your favorite pizza ingredients such as pepperoni, parmesan cheese, and mozzarella cheese are combined in this amazing sandwich. The bread slices are like garlic bread; the butter is mixed with garlic powder and Italian seasoning before spreading it onto the bread. You can use fresh garlic as well if you choose. You can also add additional pizza ingredients to this recipe such a Canadian bacon, black olives, green pepper, and more. A cup of your favorite pizza sauce is served on the side for dipping. This makes a great dinner or lunch for any night of the week. Enjoy.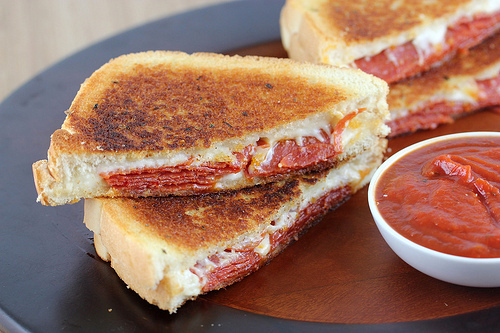 Ingredients:
8 slices of bread
¼ cup butter (softened)
1/8 teaspoon garlic powder (or more to taste)
1 teaspoon Italian seasoning
1 package sliced pepperoni
8 slices mozzarella cheese
½ cup grated parmesan cheese
pizza sauce (for dipping)
Cooking Instructions: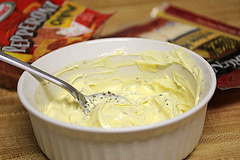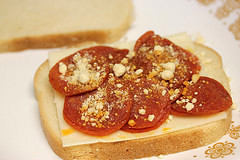 Step 1: In a small bowl mix together softened butter, garlic powder, and Italian seasoning. Warm the sliced pepperoni's for a few seconds in the microwave or on the stove top over medium heat.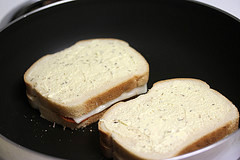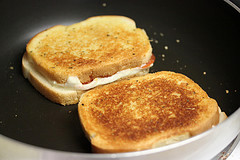 Step 2: Pre-heat a skillet to medium heat. Spread the garlic butter over one side of a slice of bread. Place butter side down in the skillet. Top with a slice of mozzarella cheese, as many pepperonis as you want, a little parmesan cheese, and an additional slice of mozzarella cheese. Butter an additional slice of bread with the garlic butter and place butter side up on top the sandwich.
Step 3: Cook in the skillet until lightly browned on the bottom and flip over. Continue cooking until the other side has browned and the cheese has melted. Repeat with remaining sandwiches. Cut in half and serve with pizza sauce for dipping.
(Makes 4 Servings)
If you enjoyed this article Subscribe to my RSS Feed.