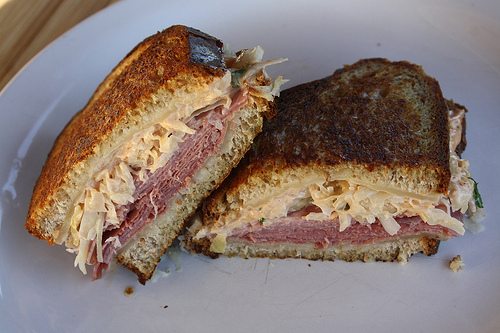 Chances are if you are a fan of corned beef, you have tried a Reuben sandwich. The Reuben sandwich is one of the most famous sandwiches around the world. It is a hot sandwich layered with corned beef, sauerkraut, Swiss cheese and Russian dressing. If you do not want to use Russian dressing, Thousand Island dressing will work in its place. The Russian dressing is very easy to make and includes ingredients such s mayonnaise, horseradish, Worcestershire sauce, ketcup, and chili sauce. If you need to make changes such as using a different type of bread besides rye that is fine as well. If you are looking to make great Reuben sandwiches at home, this is the recipe for you. Enjoy.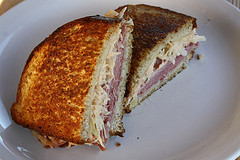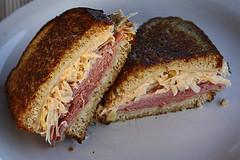 Ingredients:
2 tablespoons butter (softened)
8 slices rye bread
8 slices Swiss cheese
3/4lb corned beef brisket (thinly sliced)
1/2lb sauerkraut
Russian dressing
Russian Dressing-
1 cup mayonnaise
3 teaspoons minced onion
1 teaspoon prepared horseradish
1 teaspoon Worcestershire sauce
1 teaspoon dried parsley
3 tablespoons chili sauce
1 tablespoon ketchup
Cooking Instructions: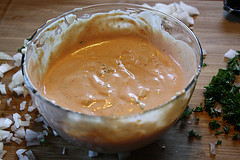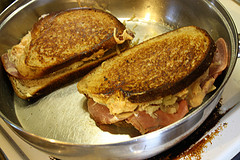 Step 1: To make Russian Dressing- In a small bowl whisk together mayonnaise, onion, horseradish, Worcestershire sauce, parsley, chili sauce and ketchup until smooth. Chill before serving.
Step 2: Butter one side of 4 slices of bread. Place them buttered side down on a sheet of wax paper. Top each with a slice of Swiss cheese; divide half of the corned beef among them. Squeeze out any moisture from the sauerkraut. Divide the sauerkraut among each of the sandwiches. Top the sauerkraut with 1-2 tablespoons of Russian dressing on each sandwich. Add another layer of corned beef and top with another slice of Swiss cheese on each sandwich. Butter the side of the sandwich facing up.
Step 3: Pre-heat a large skillet to medium heat. Cook the sandwiches on one side until golden brown. Use a spatula to flip the sandwiches over and finish cooking on the other side until golden brown. Cut in half and serve.
(Makes 4 Servings)
If you enjoyed this article Subscribe to my RSS Feed.