Spicy Garlic Wings Recipe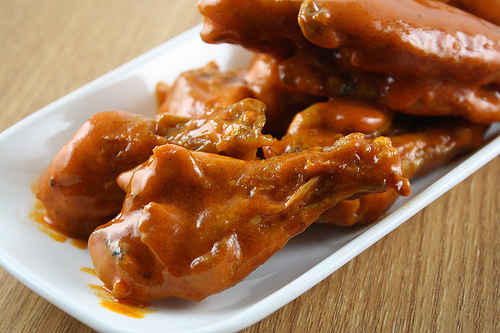 For hot wing lovers this recipe is nearly perfect. For making these wings I have used the method of broiling them instead of frying. In this method the wings are first parboiled, and then placed into the oven under the broiler for about 15 minutes per side. This leaves the wings with a nice crispy skin and they are very tender on the inside. The spicy garlic sauce packs a good amount of heat. It gets its kick from franks red hot and cayenne pepper. If you would prefer boneless wings, just see my article on How to Make Boneless Chicken Wings, and coat them with this spicy garlic sauce. These wings are perfect for your Super bowl party.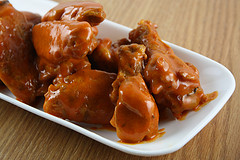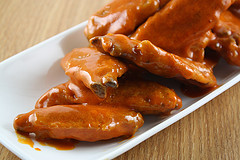 Ingredients:
3lbs chicken wings
1 tablespoons cayenne pepper
1 teaspoon crushed red pepper flakes
2 teaspoons salt
Spicy Garlic Sauce-
1 cup Frank's Red Hot SAUCE
1/3 cup vegetable oil
1 teaspoon sugar
1 teaspoon garlic powder
½ teaspoon black pepper
½ teaspoon cayenne pepper
½ teaspoon Worcestershire sauce
1 egg yolk
2 teaspoons water
2 teaspoons cornstarch
Cooking Instructions: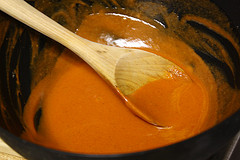 Step 1: In a small sauce pan over medium heat combine hot sauce, vegetable oil, sugar, garlic powder, black pepper, cayenne pepper, and Worcestershire sauce. Mix well and bring to a boil. Reduce heat and simmer for five minutes. Remove from the heat. In a medium bowl whisk together egg yolk and water. Add cornstarch and continue to whisk until its completely dissolved.
Step 2: Slowly add warm hot sauce mixture to the egg mixture while whisking. Do this until it is well combined. Cover and chill sauce until needed.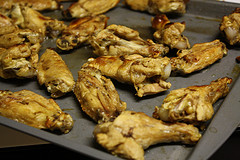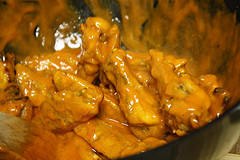 Step 3: Fill a large pot of water halfway full and then add cayenne pepper, red pepper flakes and salt. Bring the mixture to a boil  and boil for 15 minutes. After the wings have finished boiling, drain and lay wings out on a baking sheet coated with cooking spray. Using the broiler on your oven, broil the wings for 15 minutes on each side.
Step 4: Toss wings with spicy garlic sauce and serve.
(Makes 6 Servings)