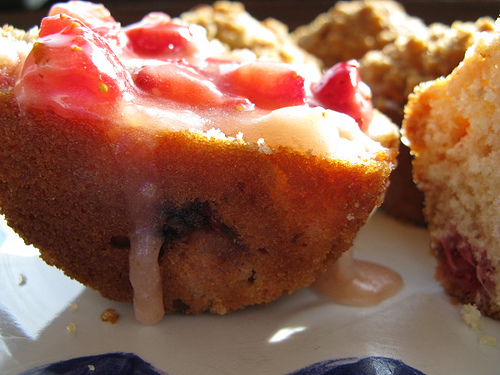 I have never really done a lot of baking but today I decided to give it a try. So I quickly began surfing the net and came across a recipe for strawberry muffins. They looked and sounded amazing, but were they? After about a half hour of prep and another half for baking I was eating the most delicious muffins I have ever tasted in my life. Seriously, they were really that good. Now I just have to control myself and stop eating so many of them J. They are good by themselves, but the strawberry butter just gives them an out of this world taste. This strawberry muffins recipe consists of three parts. The muffins, the streusel, and the strawberry butter. All of that might sound a little complicated, but it's really easy and takes little time. If you like muffins I recommend you try this immediately. Hmm, maybe I should bake more often?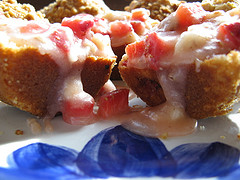 Ingredients:
1 ¾ cups all-purpose flour
2/3 cup granulated sugar
2 teaspoons baking powder
2 eggs (beaten)
1 teaspoon vanilla extract
½ cup milk
½ cup butter (melted)
1 cup fresh strawberries (chopped and light tossed in 2 tablespoons of flour)
Streusel-
¼ cup chopped toasted pecans
¼ cup brown sugar
¼ cup all purpose flour
2 tablespoons butter (melted)
Strawberry Butter-
½ cup butter (softened)
1/2 cup fresh strawberries (chopped)
1 cup confectioners sugar (powdered sugar)
¼ cup toasted pecans (finely chopped)
Cooking Instructions: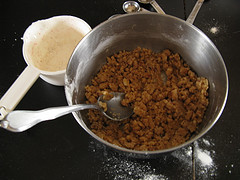 Step 1: Pre-heat your oven to 375 degrees and grease the bottom and sides of an 18 cup muffin tin/s. Mix together all ingredients for the streusel and set aside.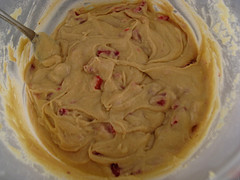 Step 2: Mix together for the muffins- 1 ¾ cups flour, 2/3 cup sugar, and 2 teaspoons baking powder.
Step 3: In a separate bowl mix ½ cup milk, ½ cup melted butter, 2 beaten eggs, and 1 teaspoon vanilla extract. Gently mix this mixture into the flour mixture. Fold in lightly floured chopped strawberries.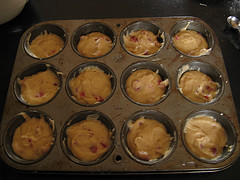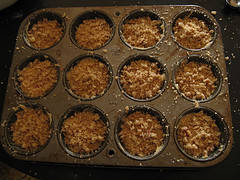 Step 4: Pour muffin batter into your tins and top with the streusel mixture. Bake at 375 degrees for 25-30 minutes (you can check to see if their done by sticking a toothpick into the muffins. If it comes out clean, their done)
Step 5: Allow muffins to cool for 10 minutes before removing them from the pan or else they will stick. Finish cooling muffins on a wire rack.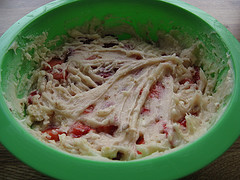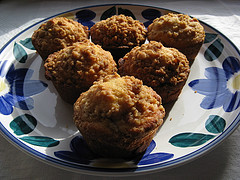 Step 6: Now you are going to make the strawberry butter by thoroughly mixing ½ cup butter and 1 cup powdered sugar. Fold in chopped strawberries and toasted pecans. Chill until needed and soften before serving. The strawberries butter can be spread on the inside of halved muffins.
Tags: cooking, recipes, food and drink, recipe, baking
If you enjoyed this article Subscribe to my RSS Feed.