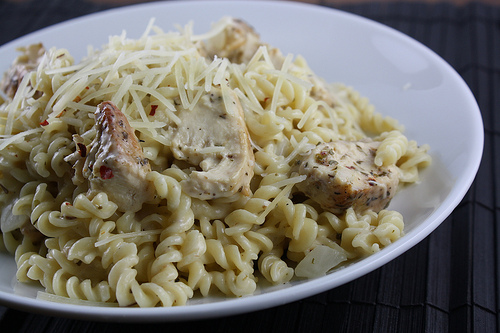 White cheddar chicken pasta is a dish that will probably end up among your favorites. This particular dish is something that I could eat at least once a week. I have tried a lot of different chicken pasta recipes but this has to be one of the best. The chicken is seasoned with dry mustard, thyme, and salt and pepper for an all around great flavor. The best part which is the sauce combines ingredients such as white cheddar cheese, wine, milk, and garlic. There are additional seasonings added to the sauce for even more flavor. There is even a little bit of red pepper flakes to add a nice kick to this recipe. Enjoy.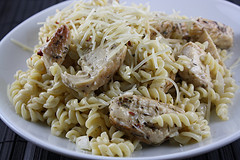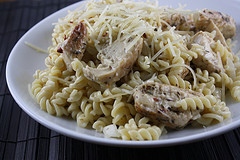 Ingredients:
1lb boneless skinless chicken breasts
1 teaspoon dried mustard
1 tablespoon thyme
½ teaspoon salt
½ teaspoon pepper
1 tablespoon olive oil
1lb rotini pasta
2 tablespoons butter
2 tablespoons flour
2 garlic cloves (minced)
1 onion (diced)
¼ cup white wine
1 tablespoon Dijon mustard
8 ounces white cheddar cheese (grated)
2 cups milk
½ tablespoon thyme
½ tablespoon oregano
crushed red pepper flakes (to taste)
Parmesan cheese
Cooking Instructions: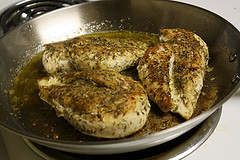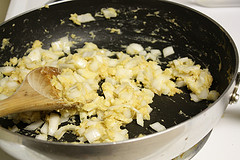 Step 1: In a small bowl mix together mustard, thyme, salt and pepper. Sprinkle evenly over both sides of the chicken breasts. Heat oil in a large skillet over medium heat. Add chicken breasts and cook on both sides until golden brown and the internal temperature has reached 165 degrees. Remove from the pan and slice into strips.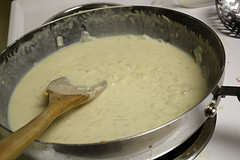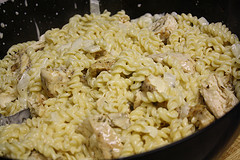 Step 2: Cook rotini pasta according to package directions. While pasta is cooked melt the butter in a large skillet over medium heat. Add flour and mix well with the butter to combine. Add wine, garlic, onion, and Dijon mustard. Cook about 5 minutes. Reduce heat to low and slowly add milk stirring to combine. Cook until the mixture begins to thicken. Add white cheddar cheese and stir it into the sauce until it has melted.
Step 3: Drain noodles and transfer them to a large serving bowl. Mix in white cheddar sauce, add the chicken and toss until well combined. Season with thyme, oregano, and crushed red pepper flakes. Top with Parmesan cheese while serving.
(Makes 6 Servings)
If you enjoyed this article Subscribe to my RSS Feed.