BBQ Chicken Fries Recipe

You can take your game day food to the next level with these bbq chicken fries. These fries are loaded with shredded bbq chicken, bacon, cheese, a sauce and green onions. The chicken is baked in the oven with bbq sauce and then shredded and placed on top of the cooked fries. The sauce is a simple combination of mayonnaise, sour cream, and a few spices. Enjoy.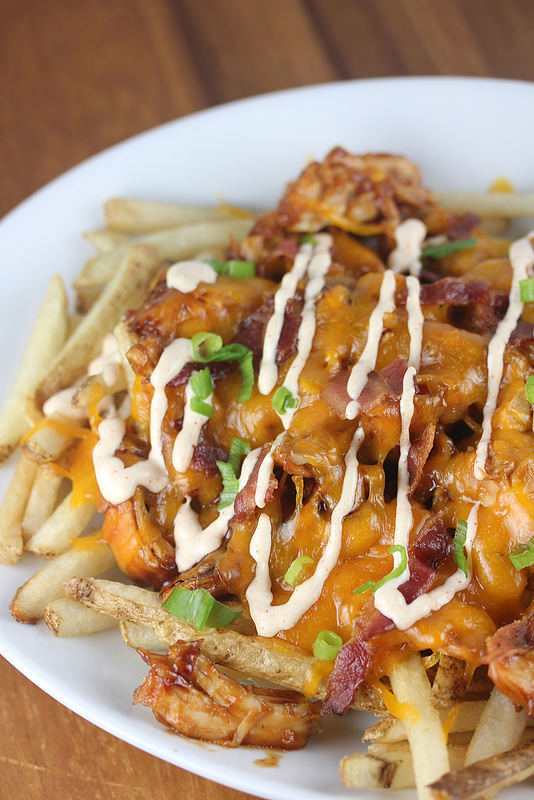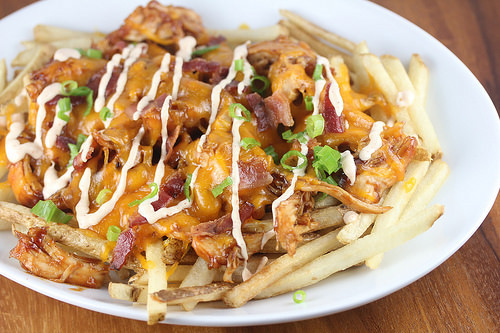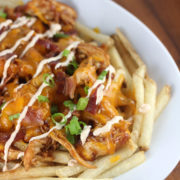 Ingredients:
4 chicken breasts
1 1/2 cups BBQ sauce
Cooked French fries
2 cups shredded cheddar cheese
1 cup mayonnaise
1/2 cup sour cream
1/2 teaspoon paprika
1/2 teaspoon onion powder
1/4 teaspoon garlic powder
1/2 teaspoon salt
1 cup crispy bacon pieces
Sliced green onions
Directions:
In a medium bowl combine mayonnaise, sour cream, paprika, onion powder, garlic powder, and salt. Add the mixture to a squeeze bottle if you have one.
Add the chicken into a greased 9x13 inch baking dish. Pour the bbq sauce over the chicken and bake for 1 hour at 400 degrees F, flipping halfway through. Shred the chicken using two forks.
Meanwhile, cook frozen French fries according to package directions. Place the cook fries onto a baking sheet. Spoon the bbq chicken over the fries and cover with cheese and bacon. Place into the oven and bake at 350 degrees F. for 10 minutes or until the cheese has melted.
Top with the sauce and green onions for serving.