Beef Stroganoff Recipe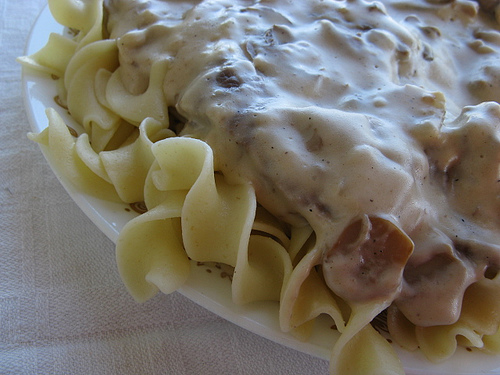 Beef stroganoff is a Russian dish consisting of sautéed pieces of beef in a delicious sour cream sauce.  If you are familiar with beef stroganoff you probably already know it's been around for a very long time. I found this recipe on the net awhile ago and all I have got to say is this is got to be the best beef stroganoff…EVER. Hah yes, it really is that good! I prefer my beef stroganoff with steak but you can use ground beef as a great substitute.  The cream of mushroom soup and the sour cream combination give the sauce an amazing flavor that I just can't stop eating it. Another highlight of this recipe is that you could have it on the table in about 30 minutes. If you have never tried beef stroganoff before or if you are looking for some of the best beef stroganoff don't be afraid to give this recipe a try. Enjoy.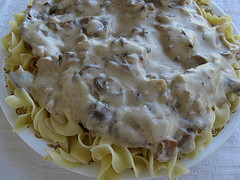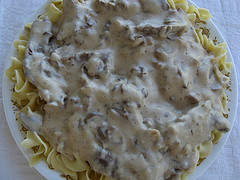 Ingredients:
1lb sliced streak (or ground beef)
½ cup onions (minced)
1 cup sour cream
1 garlic clove (minced)
¼ cup butter
2 tablespoons flour
1 teaspoon salt
¼ teaspoon pepper
2-3 cans sliced mushrooms
1 can cream of mushroom soup
1 bag egg noodles
Cooking Instructions: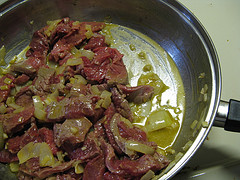 Step 1: sauté onion and garlic in butter over medium heat for a few minutes. Meanwhile, cook egg noodles according to package directions.
Step 2: Add in sliced steak (or ground beef) and brown. Stir in flour, salt, mushrooms, and pepper. Cook for 5 minutes. Stir in cream of mushroom soup and simmer for 10 minutes.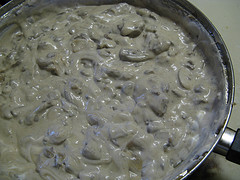 Step 3: Stir in sour cream and cook until heated. Serve over egg noodles.
Tags: cooking, recipes, food and drink, recipe,