If you've already begun your search for the best kitchen soap dispensers, you've probably come across the numerous styles on the market. The main features to consider when selecting one for your kitchen are the dispenser's material and design. A soap dispenser is now considered a must-have item in any kitchen. Soap dispensers are now standard in most kitchens, and the reservoirs are simple to refill. Long before now, I faced a major challenge in deciding which soap dispenser to get when I moved into my new apartment. My husband and I were stuck between choosing a design, automation, durability, size, multipurpose, and quality for a kitchen soap dispenser that fits our perfect kitchen.
Finally, we went for one that features automation and multipurpose as well as premium quality and design. Our home is fully automated; therefore, adding an automatic soap dispenser will be worth it. Also, considering how busy our kitchen will be, ours comes with a kitchen faucet and a sponge holder rather than a separate soap dispenser. This helped save space and provided easy access to soap, water, and a sponge while doing the dishes.
There is a diverse range of soap dispensers available on the market. There are the automatic ones, the manual ones, those attached to a sink alongside a faucet, those mounted to the wall, and those that come in a set. All these show that it can be challenging to decide which one is the best for you. It is consequential to devote some time to make an excellent decision to not end up with something subpar in your kitchen. That's why I decided to write this piece to compare some of the available options and select the best ones based on quality, brand, style, pump-action, price, and size.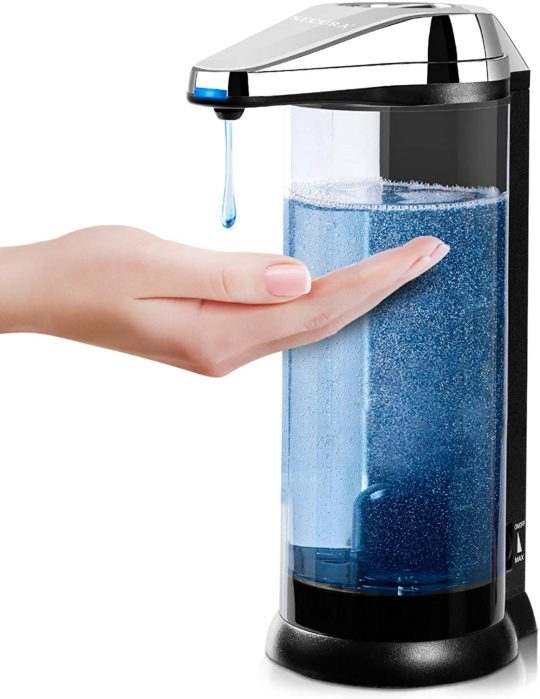 When you think of style and elegance, think Secura. The Secura automatic soap dispenser is completely hands-free and water-resistant and comes with a silicone-sealed battery compartment to keep water out. It also has a clear container so you can easily see if the soap needs to be refilled. Also, the dispenser can detect your hand from up to 2.75 inches away and has an on/off switch and a control to adjust the amount of soap that comes out. It can hold 17 ounces of soap, runs on four AA batteries (which are not included), and is wall mountable.
Features
Water-resistant
Infrared sensors
Automatic dispenser
Two years warranty
Pros
Touchless operation, hence, provides a hygienic soap dispensing
Easy on/off usage and control
The volume of dispense can be easily controlled
Cons
It can only be used with soap of low alcohol concentration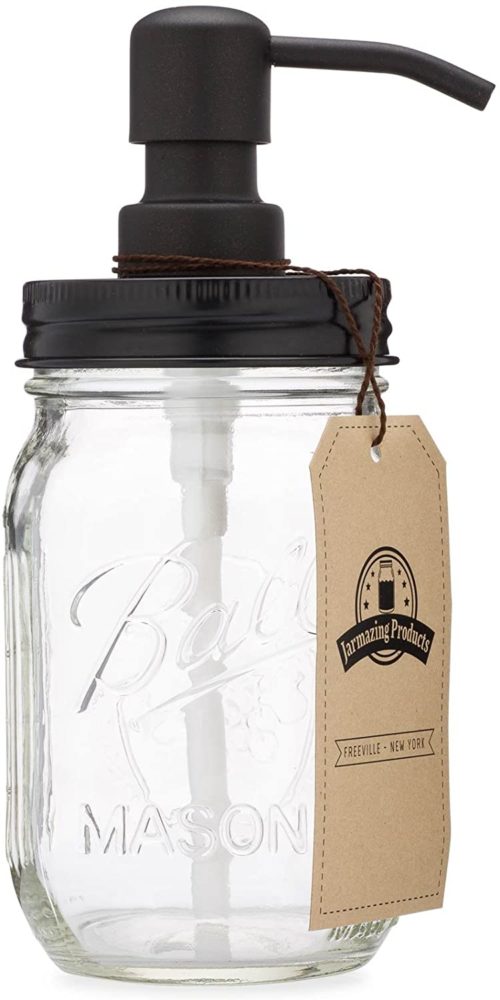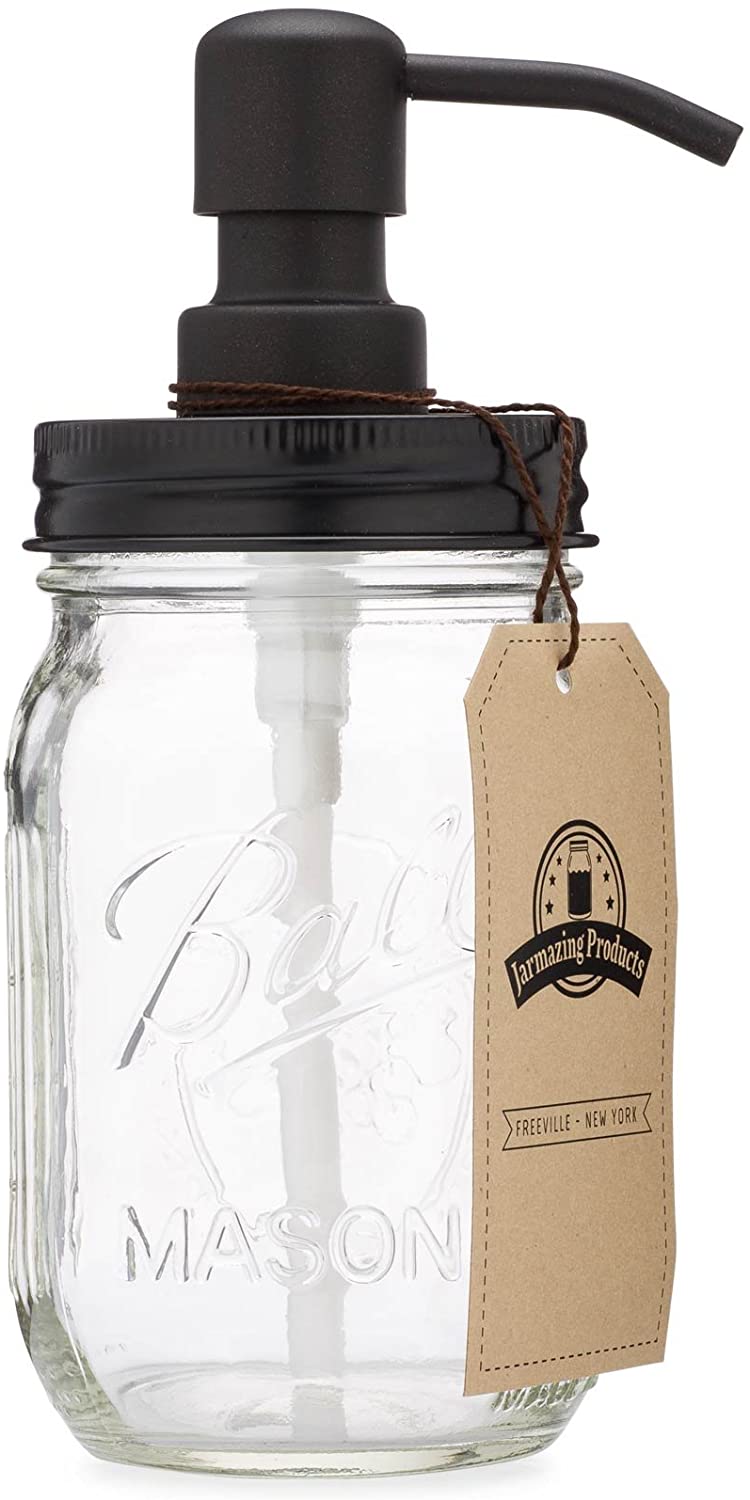 The Jarmazing mason jar soap dispenser will be a fun addition to your kitchen if you're looking for a unique design. It's both decorative and functional, with stainless steel parts that won't rust or corrode. Its sturdy metal pump head is unbreakable, and the lid has an FDA-approved silicone gasket that ensures a tight fit and prevents leaks and spills. Furthermore, the wide mouth allows for simple refills. The dispenser has a capacity of 16 ounces of soap and comes with an optional foaming pump. This Jarmazing mason jar soap dispenser will be a fun addition to your kitchen if you're looking for a unique design.
Features
Stainless steel material
Leak-proof
It comes with a silicone gasket
Pros
Suitable for soap, lotion, and more
Fits many decorations
An excellent option for kitchen and bathroom use
Cons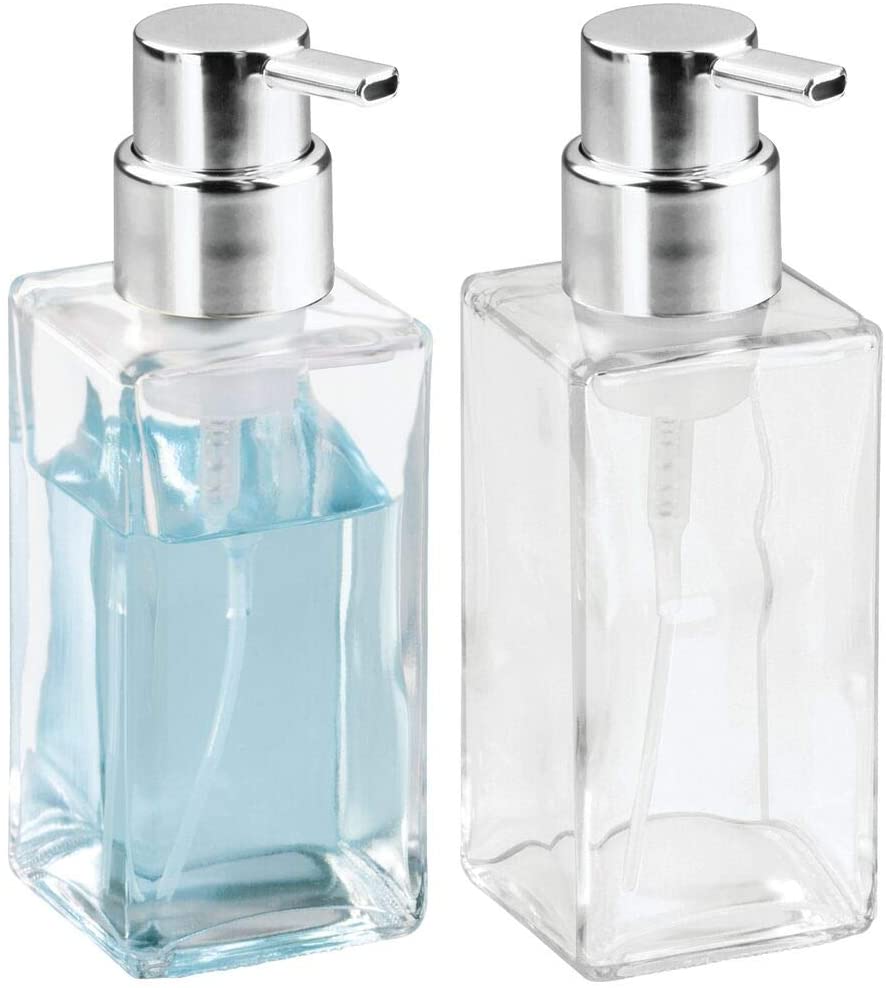 The mDesign modern hand soap dispenser comes in a set of two and not only has a timeless design, but it also foams as it dispenses, allowing you to save soap (and money) by using less each time. This dispenser also has a wide-mouth opening for easy refilling and a chrome-finished plastic pump. It can hold 14 ounces of soap, but it should be noted that this dispenser only works with foaming soap mix.
Features
Offers foaming soap pump
Easy on carriage
Cost-effective
It comes in a set of two
Compatible with dish soap
Pros
Have replacement plastic heads that can be easily purchased separately
Very durable and long-lasting
Can hold up to 14 ounces of soap
Cons
The pump is easily prone to damage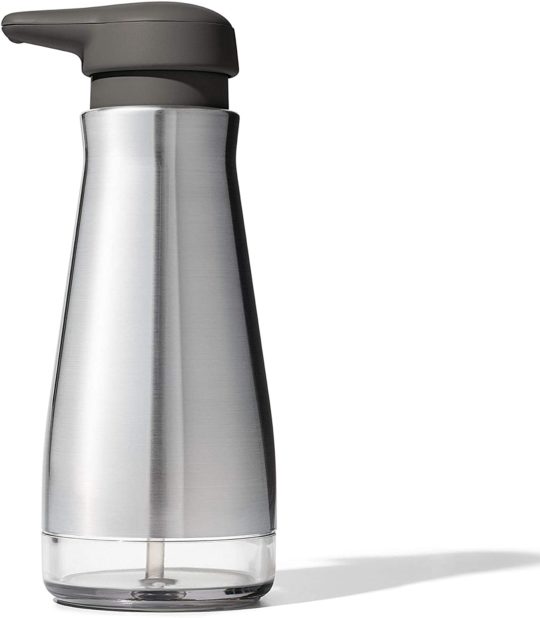 The OXOGood GripDispenser has a very appealing design that will look fantastic in a modern kitchen. Press and hold the pump head with either hand, and the precision spout will dispense the ideal amount of soap onto your hand or directly into the kitchen sink. Dishwashing is faster and easier when there is less mess, non-slip surfaces, and less pressure. The body design ensures that the entire sink soap dispenser is stable. A non-slip foot adds extra security. With a reasonable 15-ounce capacity and a wide opening for easy refilling, you have a high-quality dispenser that justifies the higher price tag.
Features
Non-slip base
Big size
Stainless steel material
One-handed dispensing
Angled spout
Pros
Easy to use
Very sturdy
Very mobile and can be placed anywhere in the kitchen
Pump action prevents clogging
Cons
It does not come with motion detection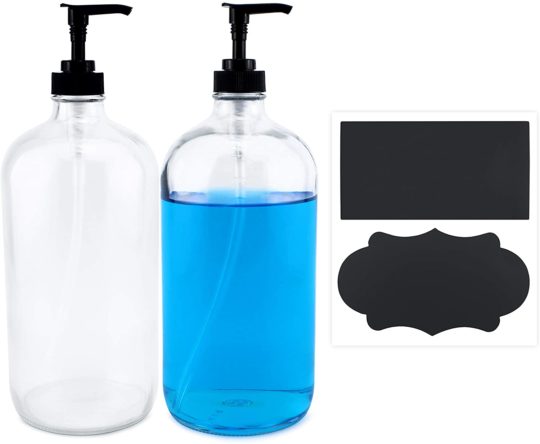 Our premium pick is sleek and stylish, with a high shine stainless steel pump top and lids, and it's also a great value because it comes in a two-bottle pack. These soap dispensers are made of clear, shatterproof glass and are safe enough for a busy kitchen. Their slim design allows them to fit alone in smaller spaces. You now have a versatile sink setup with the option of using hand soap or moisturizer. Each bottle holds 16 ounces, so there's plenty of room for your liquid dish soap, and the glass's weight provides the entire dispenser a high level of stability.
Features
Multi-use
Value for money
Glass material
Sleek design
Pros
Great capacity up to 16 ounces
It comes with stainless steel pump nozzle and lid
Steel nozzle prevents clogging
It can be used as a hand and dish dispenser
Cons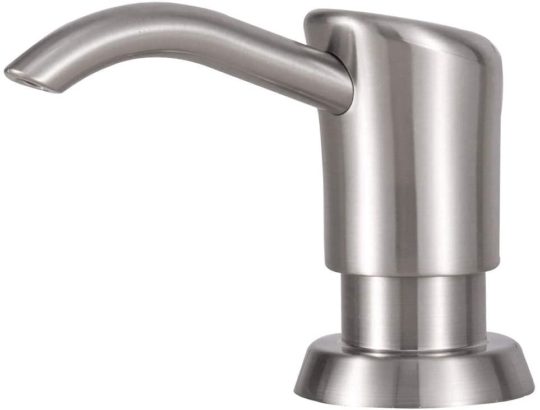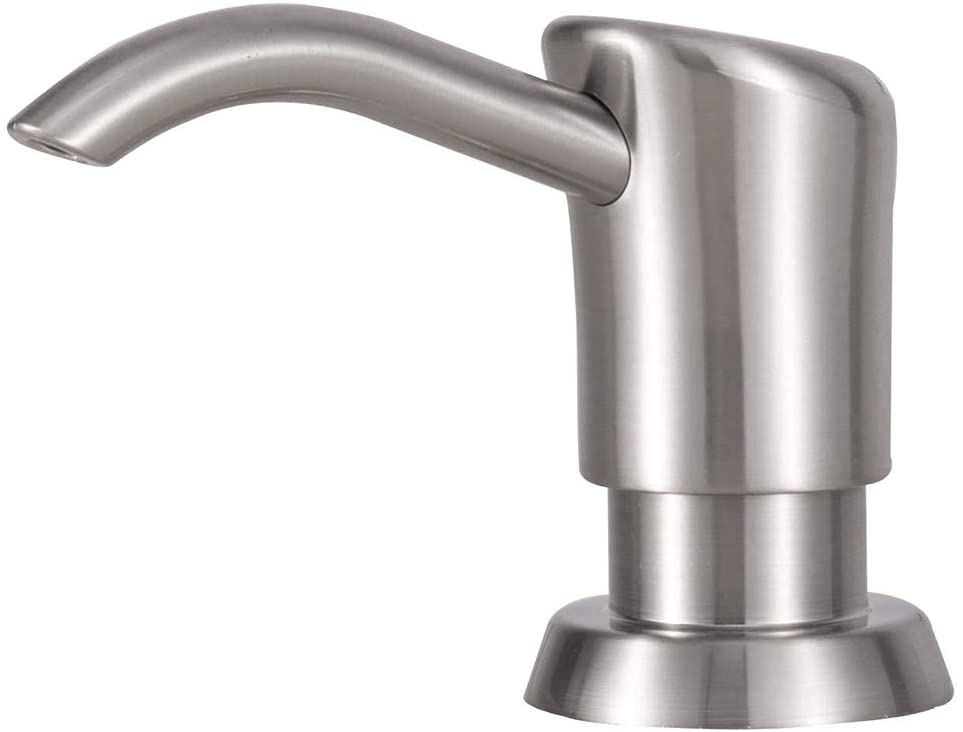 When you think of modern design, multifunction, value for money, ease of usage, think Gagalife built-in sink soap dispenser. This soap dispenser offers flexibility, durability, modernity, all at a very affordable price. It is no wonder it has a customer review of 4.6/5. In the kitchen and bathroom, it is appropriate for liquid soap, lotion, or detergent. The exquisite design of this soap dispenser makes it a symbol of your elegant kitchen. It makes your kitchen elegant and is suitable for most sinks with a modern design.
Features
Easy to install
Value for money
Easy to dispense
Plastic material
Pros
It comes with a step-by-step installation manual
It can be used with liquid, lotion, and detergent in the kitchen or bathroom
It comes with two years warranty
Cons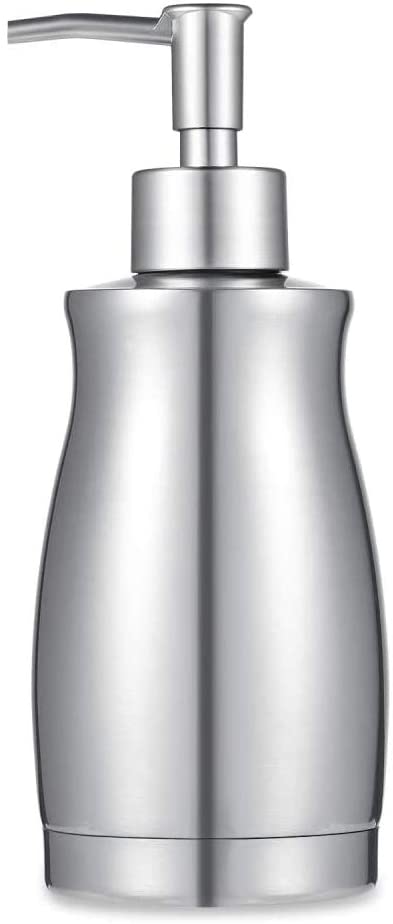 Elegance is a word that characterizes Arktek's soap dispenser, which would look ideally at home in your washroom or next to your kitchen sink. However, an effective kitchen dispenser must be more than just attractive, and this soap pump appears to be built for the job. The outer body of the dispenser is made of commercial-grade stainless steel with a brushed finish to resist rust and fingerprints. Inside, you'll find a durable and leak-proof plastic inner, and the entire dispenser can hold up to 13.5 ounces, making it ideal for liquid dish soap. The pump handle is flat for one-handed operation, and the tube is long enough to reach the last liquid soap residue inside.
Features
Stainless steel material
Very affordable
Leak-proof
Drip resistant nozzle
Large capacity
Pros
Modern design
It comes with a multipurpose use
It comes with a steel nozzle to prevent clogging
The dispenser is rust proof
Cons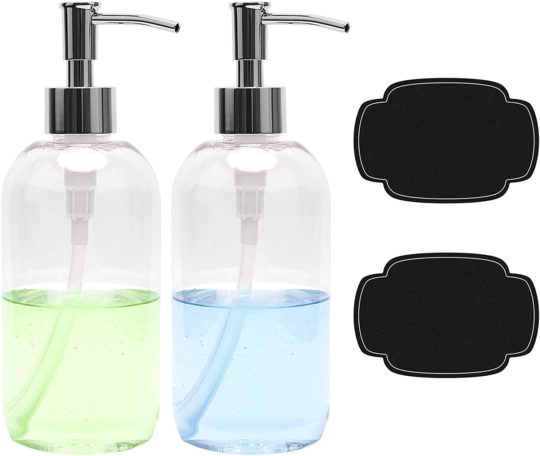 These BPA-free ULG soap dispensers come in a two-pack.For those who prefer to use plastic. Each one is reasonably priced and well-designed, with a long-lasting stainless-steel head that will not rust or corrode over time. The container for this pick holds 16 ounces and is made of rigid PET material. Because of the waterproof labels, this option is ideal for storing hand soap and dish soap in the exact location for easy identification. Remember that you should never clean this bottle with boiling water or fill it with anything hotter than 104 degrees Fahrenheit.
Features
Stainless steel material
Durable Pump
Easy to fill
Pros
Reusable
Lightweight and can be carried about
Very easy to clean
Cons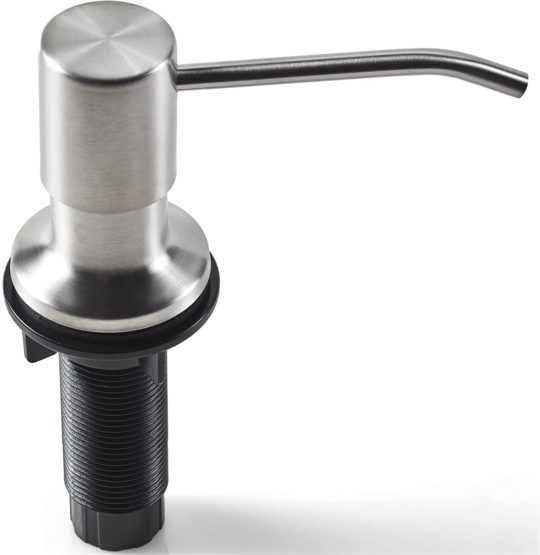 This product is second on the list for those looking for a built-in option. The Kimi Cuisine soap dispenser holds 17 ounces, is simple to install, and is all kitchen counter materials are compatible with it. The no-drip pump is constructed of stainless steel, which resists rust and corrosion, and can be purchased in seven different finishes to match your sink (including brushed nickel, chrome, and copper). The interior of this dispenser is made of PE plastic, and it is easy to refill from the top.
Features
Rust Resistant
Durable
Superior quality
Consistent dispense
Pros
Simple to install
Easy refill from the top
Suitable for multipurpose usage
Built-in responsive soap dispenser pump
Cons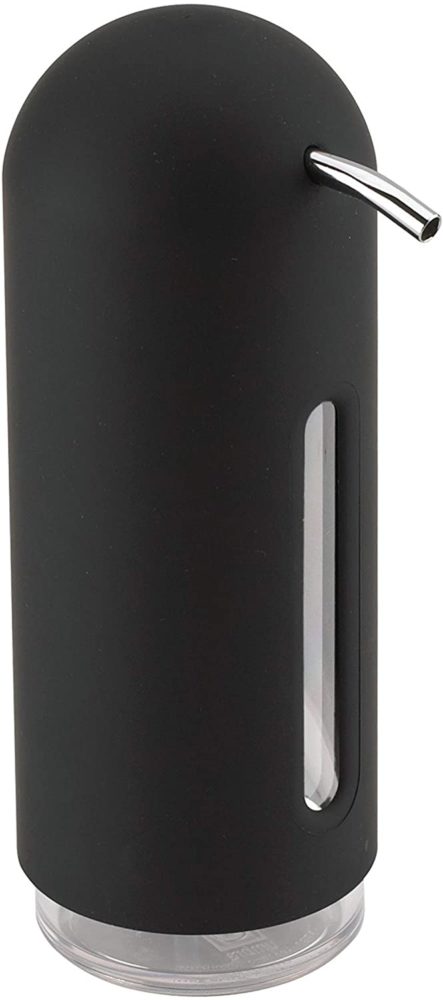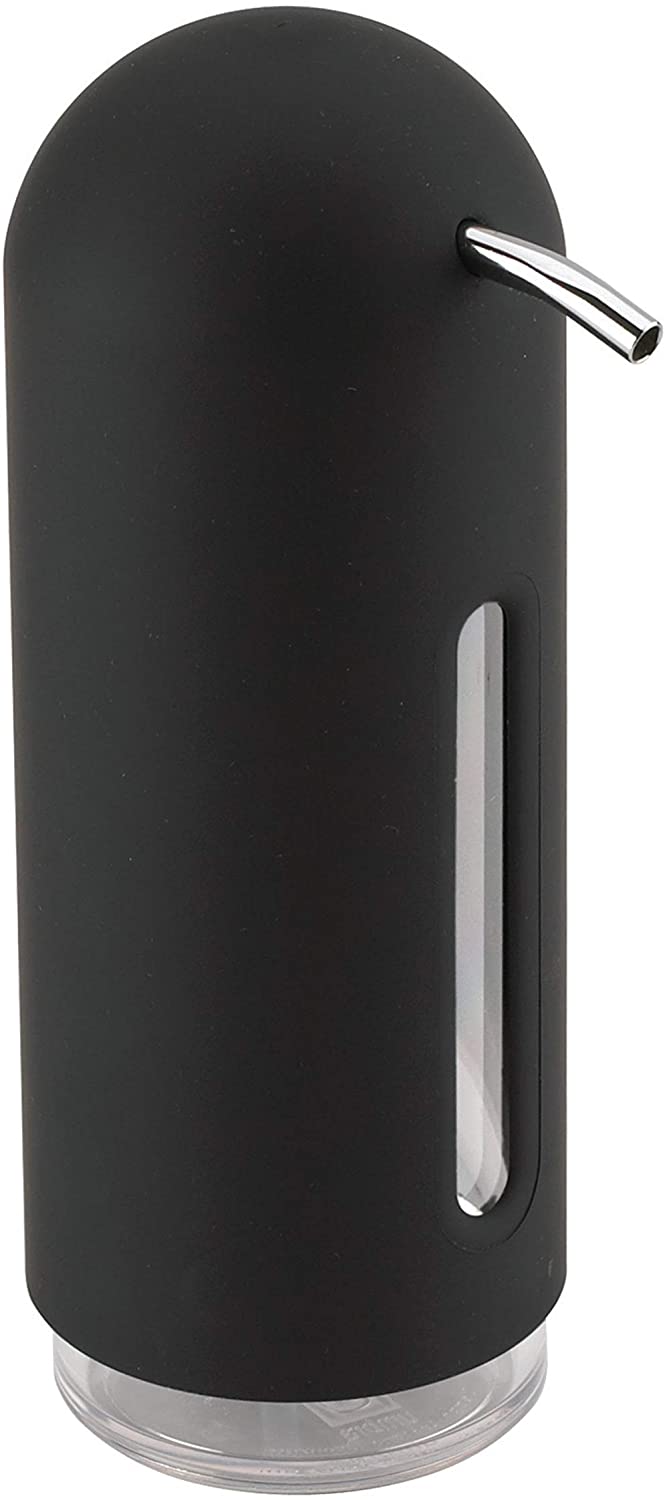 The Umbra Soap Dispenser is a curveball, resembling its namesake's penguin shape, with an excellent, modern design, especially considering its price. The umbra penguin soap dispenser comes in black and nickel finishes. The pump's outer shell is made of a sturdy molded plastic with a lovely soft-touch finish. Not to mention the broad, rounded top, which allows for one-touch dispense. This product has a 12-ounce capacity and a nozzle that is long enough to reach the sink. It also has a clear front panel that lets you know when you're running low on soap.
Features
Durable pump
Wide bottom
Multiple choice of color
It comes with a level indicator
Pros
The rounded bottom provides enough balance
Big-rounded top for easy refilling
Suitable for hand soap, dish soap, lotions, and sanitizers
Cons
Carrying capacity is 12 ounces
Product Guide
If you recently moved into an apartment and want to get a new kitchen soap dispenser or replace an old one, selecting the best kitchen soap dispenser for the perfect kitchen is about more than just looks. Here are some key points to keep in mind:
Material
If you want your kitchen sink soap dispenser to last, make sure it is made of long-lasting and reusable materials. Plastic is one of the inexpensive materials available and will degrade over time. Stainless steel or aluminum are your best bets for a sleek look that is also long-lasting. Glass and ceramic are both visually appealing and viable options. Consider the material used for the pump mechanism, as metal springs are more durable than plastic springs.
Size
Your choice of soap dispenser will be determined by the amount of space available around your kitchen and sink. If you have limited space, a built-in soap dispenser is a way to go; if you have more space, a wall-mounted soap dispenser is a way to go.
The Volume of Soap Reservoir
In addition to considering the available counter space next to
The 11 Best Soap Dispensers of 2021
your faucet, make sure the internal soap reservoir is adequate for your dishwashing needs, as you don't want to be constantly refilling it.
Design
Your new countertop soap dispenser should also complement the color palette of your kitchen fittings and blend in with your kitchen's aesthetics. Available for selection is the manual and automatic dispenser, depending on your technological preferences.
Pump and Nozzle
These must also be capable of dispensing. If possible, look for a self-priming pump, which keeps the soap flowing even after you refill it. Furthermore, the pump mechanism should be made of high-quality springs to avoid clogging or rusting. Don't forget to double-check the nozzle length, as it must be the correct length for the location you intend to use it.
Conclusion
It's a wrap on our best kitchen soap dispenser for the perfect kitchen. Secura's lovely-looking soap dispenser is my top pick. This dispenser is automatic with infrared sensors and versatile enough to work with most kitchen styles. It has a large 17-ounce capacity to keep your refill time to a minimum. In addition to the sturdy mason glass, you get a rust-resistant stainless-steel lid and pump with a silicone gasket to prevent spills—the ideal purchase for a busy kitchen.