Burgers with Romaine Slaw Recipe

These burgers with romaine slaw are great to prepare for dinner. You can either make these burgers into full hamburgers or into several little sliders. The burgers are topped off with cheddar cheese. I cooked the burgers on a griddle and toasted the buns as well. What makes this recipe so special is the romaine slaw. The romaine slaw gets a lot of its flavor from mayonnaise, Dijon mustard, pickles, and pickle juice. The slaw is prepared by combining sliced romaine lettuce with a dressing in a bowl. I served these burgers with French fries. Enjoy.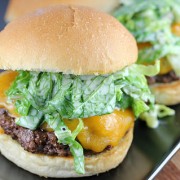 Burgers with Romaine Slaw
Ingredients:
Burgers-

1 ½ lbs ground chuck
salt and pepper
4 hamburger buns
butter (for spreading)
4 slices cheddar cheese
Romaine slaw-

¼ cup mayonnaise
1 tablespoon olive oil
1 tablespoon pickle juice
1 tablespoon Dijon mustard
2 tablespoons pickles (finely diced)
1 tablespoon pickled jalapenos (finely diced)
salt and pepper (to taste)
2 hearts of romaine lettuce (sliced thinly)
Directions:
Form the ground beef into 4 equal patties. Season on both sides with salt and pepper.
In a large bowl combine mayonnaise, olive oil, pickle juice, Dijon mustard, pickles, and jalapenos. Add salt and pepper to taste. Mix well. Cover and refrigerate. The romaine lettuce will be added before serving.
Heat a large skillet over medium-high heat. Place the burgers into the skillet and cook for 3-4 minutes per side or until the burgers are fully cooked (the internal temperature has reached 160 degrees F.). During the last few minutes of cooking top each burger with a slice of cheddar cheese. Cook until the cheese has melted.
Split the hamburger buns. Spread a thin layer of butter onto the cut sides of each bun. Place butter side down into a clean skillet over medium heat and toast until golden brown on the bottom.
Remove the dressing from the refrigerator. Toss the sliced romaine with the dressing. Add the cooked patties to each bun and top with the romaine slaw.