Cheesy Bread Recipe

Cheesy bread is one of my favorite things to do with spaghetti or pretty much any Italian dish. It also goes great as an appetizer for parties. I usually end up buying this from the store but have discovered making my own is so much better. I got this recipe from the Pioneer Woman, and it has become one of my all time favorites! The process to making this cheesy bread recipe is fairly easy. You simply mix ingredients such as mayonnaise, cheeses, and green onions in a bowl. You then heat garlic and butter in a pan and coat the French bread with it. After that the cheese mixture is spread onto the top of the bread, placed into the oven and baked. Enjoy.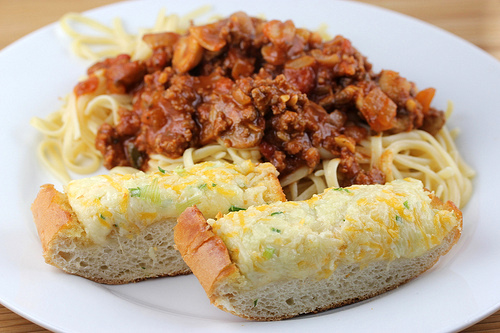 Ingredients:
3 cups shredded cheddar cheese
¾ cups shredded Monterey Jack cheese
½ cup grated parmesan cheese
½ cup real mayonnaise
4 green onions (minced)
1 dash salt
1 loaf French bread
1 stick butter
4 garlic cloves (minced)
Cooking Instructions: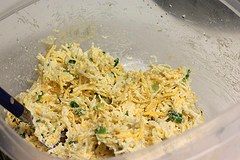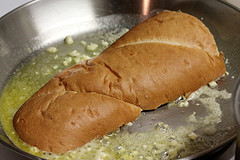 Step 1: Pre-heat the oven to 425 degrees. In a medium bowl mix together cheddar cheese, Monterey jack cheese, Parmesan cheese, real mayonnaise, a dash of salt, and green onions. Set aside. Cut the loaf of French bread in half, and then cut the halves in half.
Step 2: In a large skillet melt 2 tablespoons of butter and add ¼ of the minced garlic. Place one of the French bread slices cut side down in the skillet, swirling it so it soaks up the butter and garlic. Allow the bread to toast in the skillet until evenly browned. Remove any burnt garlic from the skillet. Remove and repeat with the remaining butter, garlic, and French bread.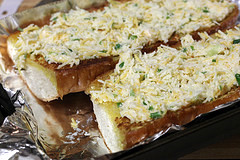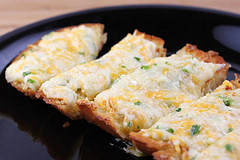 Step 3: Place the browned bread slices onto a baking sheet. Spread the cheese/mayo mixture onto the top of the warm browned slices of bread and place into the oven and bake at 425 degrees for about 10 minutes or until the cheese is hot and bubbly. Slice and serve.
(Makes 4 Servings)