Chili Cilantro Lime Chicken Recipe

This chili cilantro lime chicken is marinated and grilled to perfection. The marinade consists of a few simple ingredients such as lime juice, zest, cilantro, red chili flakes, cumin, and honey. You will want to marinate the chicken for at least 30 minutes but I recommend a bit longer than that. I think I marinated it for about 6 hours. This recipe uses boneless skinless chicken breasts but you can use thighs as well. You can use the chicken for tacos or burritos or just serve it as is with some rice on the side. If you are looking for a delicious chicken marinade, give this one at try. Enjoy.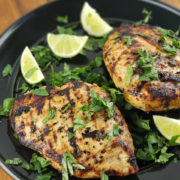 Chili Cilantro Lime Chicken
Ingredients:
4 boneless skinless chicken breasts
¼ cup fresh lime juice
Zest of one lime
2 tablespoons olive oil
2 tablespoons chopped fresh cilantro
2 garlic cloves (chopped finely)
1 teaspoon salt
1 teaspoon honey
1 teaspoon red chili flakes
½ teaspoon ground cumin
Directions:
In a small bowl whisk together lime juice, zest, olive oil, cilantro, garlic, salt, honey, chili flakes and cumin. Place the chicken in a large zip lock plastic bag and pour in the marinade. Mix well. Seal the bag and place into the refrigerator to marinate for at least 30 minutes or up to 24 hours.
Pre-heat an outdoor grill to medium-high heat. Add the chicken and grill for 5 minutes on each side or until fully cooked (the internal temperature has reached 165 degrees F.).