Chinese Chicken Balls Recipe

Chinese chicken balls can often be found at nearly all Chinese restaurants in the United States. Chinese chicken balls are pieces of chicken that are coated with a batter and then fried and served with sweet and sour sauce. The sweet and sour sauce gets a lot of its flavor from ketchup, vinegar, and pineapple juice. If you don't have pineapple juice you can just use water but the flavor wont be exactly the same. If you would like a loss that is a little bit less sweet simply add less sugar. You can fry the chicken pieces in a large pot or a deep-fryer, using a deep-fryer will be a bit easier. I like to serve this recipe with white rice. Enjoy.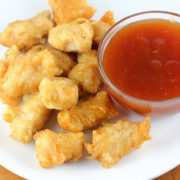 Chinese Chicken Balls
Ingredients:
Sweet and Sour Sauce-
½ cup ketchup
1 teaspoon soy sauce
1/3 cup white vinegar
½ cup brown sugar
1 cup white sugar
¾ cup unsweetened pineapple juice (or water)
3 tablespoons cornstarch
Chicken-
1 cup all-purpose flour
1 cup cornstarch
2 teaspoons baking powder
2 teaspoons baking soda
½ teaspoon garlic powder
2 teaspoons sugar
1 1/3 cups cold water
1 teaspoon sesame oil
Peanut oil (for frying)
8 boneless skinless chicken breasts (cut into bite-sized pieces)
Directions:
In a medium saucepan combine ketchup, soy sauce, vinegar, brown sugar, and white sugar. In a cup whisk together the pineapple juice or water with the 3 tablespoons of cornstarch until smooth. Whisk into the ketchup mixture in the saucepan. Bring to a boil while stirring constantly over medium-high heat until bubbly. Remove from heat and allow to sit until at room temperature until cooled to serve.
To prepare the chicken: In a large bowl combine flour, cornstarch, baking powder, baking soda, and garlic powder. Add in water and sesame oil. Whisk until smooth. Add in the chicken pieces and mix well to coat the chicken with the batter.
Heat oil in a deep-fryer to 375 degrees F. Fry the batter chicken pieces in batches until golden brown and fully cooked (the internal temperature has reached 165 degrees F.), about 5-6 minutes. Drain on a plate lined with paper towels.
Serve immediately with sweet and sour sauce. You can also toss the chicken with the sauce if you would prefer.