Cranberry Muffins Recipe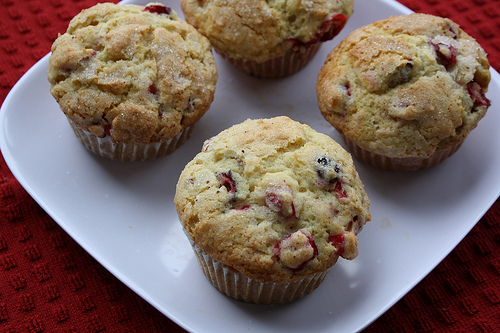 Cranberry muffins are a great fall treat and are perfect for the upcoming holidays. For this recipe you can either use fresh cranberries or frozen. Some of the ingredients include sugar, butter, sour cream, cranberries and vanilla extract. These muffins are topped with a delicious mixture of sugar and nutmeg. If you are looking to make good use of cranberries this holiday season give this recipe a try. Enjoy.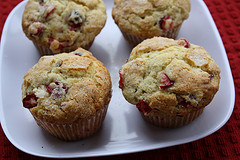 Ingredients:
½ cup butter or margarine (softened)
2 eggs
1 cup sugar
1 teaspoon vanilla extract
1 cup sour cream
2 cups all purpose flour
1 teaspoon baking powder
½ teaspoon baking soda
½ teaspoon ground nutmeg
¼ teaspoon salt
1 cup fresh or frozen cranberries (chopped)
Topping-
2 tablespoons sugar
1/8 teaspoon ground nutmeg

Cooking Instructions: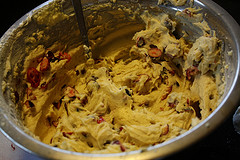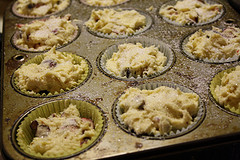 Step 1: Pre-heat the oven to 400 degrees. In a large mixing bowl cream butter and sugar, beat in eggs and vanilla. Mix well. Fold in sour cream with a spatula. In a separate bowl combine flour, baking powder, baking soda, nutmeg and salt. Stir into the creamed mixture until moistened and well combined. Fold in cranberries.
Step 2: Place batter into greased or paper-lined muffins cups until each cup is ¾ of the way full. Combine topping ingredients and sprinkle over each muffin.
Step 3: Place into the oven and bake at 400 degrees for 20-25 minutes or until a toothpick comes out clean. Cool in the pan for 10 minutes and remove to a wire rack to finishing cooling.