Denver Omelet Recipe

The Denver omelet is perfect to prepare for breakfast. This omelet consists of cooked ham, green pepper, onion and cheese. There is some debate about if a Denver Omelet has cheese in it but I had to put it in mine. This recipe is enough to make one omelet but the ingredients can easily be doubled or tripled to make more. The ham and veggies are cooked right into the egg mixture and then cooked in a non-stick skillet, topped with cheese and folded or rolled up into an omelet. I like to serve this omelet with toast on the side. Enjoy.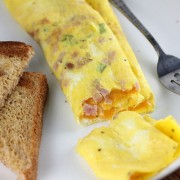 Denver Omelet
Ingredients:
2 teaspoons butter
2 tablespoons chopped fully cooked ham
1 tablespoon finely chopped bell pepper
1 tablespoon finely chopped onion
2 eggs (beaten)
¼ cup cheddar cheese (optional)
Directions:
Heat butter in an 8-inch non-stick skillet over medium-high heat. Once the butter has melted, tilt the pan to fully coat the bottom with the butter. Add the ham, bell pepper and onion and cook in the butter for 2 minutes, stirring frequently.
Quickly pour the eggs into the pan, while sliding the pan and forth rapidly over heat. Quickly stir with a fork to spread the eggs over the bottom of the pan as they thicken. Spread cheddar cheese over the top of the omelet if desired. Let stand over heat for a few seconds to lightly browned the bottom of the omelet.
Tilt the pan and run a fork or spatula under the edge of the omelet, then jerk the pan sharply to loosen the edges from the bottom of the pan. Fold the portion of the omelet nearest to you just to the center. Turn the omelet onto a plate flipping the folded portion of the omelet over so it rolls over the bottom. Tuck the sides of the omelet under if necessary. Note: You can simply fold the omelet in half and place it onto a plate instead if you wish.