Dr. Pepper Pulled Pork Recipe

This recipe for Dr. Pepper pulled pork is so easy to prepare because it is cooked in the slow cooker. Simply add onions to the bottom of the crock pot, add the pork roast, and pour in the Dr. Pepper. Once the pork has finished cooking it is shredded and then mixed with your favorite BBQ sauce. For the BBQ sauce you can use your favorite brand or even make your own. You can serve this pulled pork on sandwiches. A good choice for a topping is coleslaw but I tried something different and used sliced cheddar cheese and French fried onions instead. You can serve this recipe with French fries or chips if desired. Enjoy.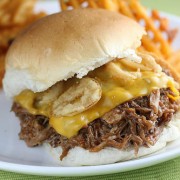 Dr. Pepper Pulled Pork
Ingredients:
1 pork butt/pork shoulder roast
salt, pepper, and garlic powder (to taste)
1 onion sliced
1 can Dr. Pepper
¾ cup BBQ sauce (or more to taste)
Rolls (for serving)
Directions:
Place the sliced onion into the bottom of the slow cooker. Rub the outside of the pork roast with salt, pepper and garlic powder. Pour Dr. Pepper over the roast and cook on low for 7-8 hours or on high for 4-5 hours.
The meat will be very tender and pull apart easily. Using 2 forks, shred the pork and place back into the juices. Add the BBQ sauce to taste. Allow to cook for an additional 30-60 minutes if desired.
Served on crusty rolls with coleslaw or cheddar and French fried onions if desired.