Enchilada Sauce Recipe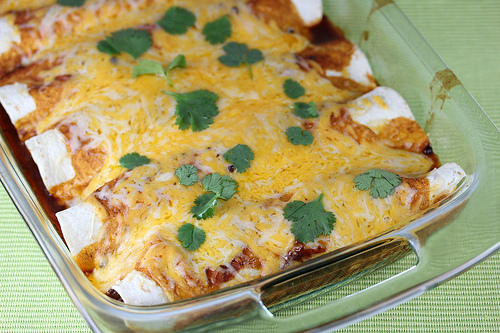 Preparing enchiladas using canned enchilada sauce can get boring after a while and preparing your own is so much better. This recipe will show you an easy way to prepare your own enchilada sauce. Most of the ingredients in this recipe you probably have on hand so it should not be very expensive. The real secret to the flavor of this recipe is the cocoa powder. This enchilada sauce is so easy to prepare—all of the seasoning ingredients are combined and then a little water is added to them to form a thin paste. The paste is added to the pan with the rest of the water and then the mixture is simmered until thick. One the mixture has thickened the tomato sauce is added and it is ready to serve. Enjoy.
Ingredients:
3 tablespoons chili powder
3 tablespoons flour
1 teaspoon cocoa powder
½ teaspoon garlic salt
1 teaspoon oregano
3 cups water
1 (8 ounce) can tomato sauce
Cooking Instructions:
Step 1: In a small bowl combine chili powder, flour, cocoa powder, garlic salt and oregano.
Step 2: Stirring constantly slowly add enough water to the seasoning mixture to form a thin paste. Pour into a medium sauce pan and add the rest of the water. Cover and cook over medium-high heat while stirring constantly until the mixture thickens.
Step 3: Stir in tomato sauce. Use in your favorite enchilada recipe.