Fajita Stuffed Shells Recipe

I have discovered pretty much any Mexican ingredients go great in stuffed shells. The results of stuffing large pasta shells with fajita ingredients are amazing. The pasta shells are stuffed with grilled steak, onions, peppers, cilantro, cheese and sour cream. The steak gets its flavor from a delicious marinade that consists of lime juice, garlic, oregano, and cumin. If you would prefer, you could use chicken instead of steak. You can also top the shells with cheese during the last few minutes of baking. I like to serve this recipe with a side dish of Mexican flavored rice. This recipe makes a prefect dinner for any night of the week. Enjoy.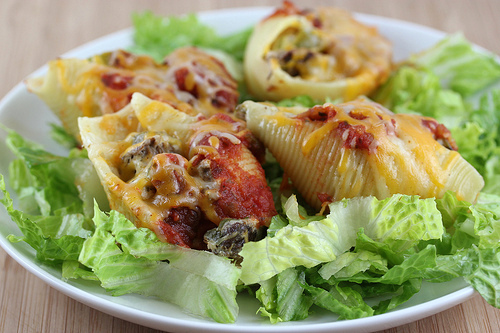 ingredients:
¼ cup lime juice
1 garlic clove (minced)
½ teaspoon dried oregano
¼ teaspoon ground cumin
6 ounces boneless beef flank steak
1 green bell pepper (halved and seeded)
1 medium onion (cut in half)
12 uncooked jumbo pasta shells
½ cup sour cream
1 ½ cups shredded Mexican cheese blend (divided)
1 tablespoon cilantro (minced)
2/3 cup chunky salsa
2 cups shredded lettuce
Cooking Instructions: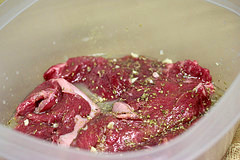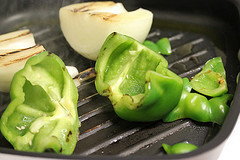 Step 1: In a shallow dish combine lime juice, garlic, cumin, and oregano. Add steak, cover and refrigerate 8 hours to overnight.
Step 2: Pre-heat the oven to 350 degrees. Cook pasta shells according to package directions. Drain and rinse in cold water, set aside. Heat and lightly grease an outdoor grill or indoor grill pan. Grill steak, onions, and peppers for 6-8 minutes (or until the steak has reached desired doneness), turning once. Remove the steak and vegetables and cool slightly. Cut the steak into thin slices and chop the green pepper and onion. Place steak, green pepper, and onion into a medium bowl. Stir in sour cream, 2 tablespoons of Mexican cheese blend and cilantro.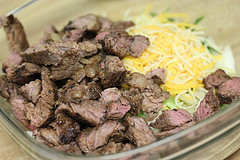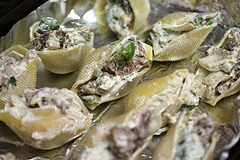 Step 3: Stuff the cooked pasta shells with the meat mixture. Arrange shells on a lightly greased 8-inch baking dish. Pour salsa over the shells. Cover with foil and bake for 25 minutes or until heated through. During the last few minutes or cooking remove the foil and top the shells with left over Mexican cheese blend. Remove from the oven and serve over a bed of shredded lettuce.
(Makes 4 Servings)