Halibut filets don't have to be complicated and tedious to prepare. Grab a couple of halibut fillets and some leafy parsley and let your pantry supplies do the rest. A simple flavor combination is all that is required for a fresh and hearty oven-baked halibut supper in about 20 minutes.
A simple pan-seared halibut recipe with lemon butter sauce will show you how to correctly pan-sear halibut every time. It tastes delicious, because of the butter lemon halibut sauce, but it's really quite nutritious.
If you are on the fence about eating fish, this could be the article to convert you. You can try it for a quick dinner or a meal to stun your guest. Read on as you learn how to cook halibut filet to perfection.
Tips on How to Cook Halibut Filet
Selecting a good halibut – First thing first, halibut is best bought between March and September, and should be avoided from December to February.
You should look for a filet with a firm texture that is transparent and sparkling. Discoloration, green or yellow fat, or white spots, which could indicate chalkiness, should be avoided.
Since halibut filets can come from such huge fish, it is often marketed as skinless as steaks rather than filets. Notably, this dish freezes well, so you can buy frozen or previously frozen halibut.
Flavoring the halibut filet – You should start preparing the filets by patting any excess moisture from the halibut fillets using paper towels. The butter, garlic, parsley, salt, lemon, and herbs should then be added to enhance the flavor of the halibut while keeping it neutral enough to mix with a variety of side dishes.
Notably, in most stores, you will find two types of parsley available. If you are going to use it to season your halibut, make sure to get flat-leaf Italian parsley. Curly parsley has a mild flavor and is typically used as a garnish.
Halibut should have a light, flakey texture that is juicy. When it comes to keeping the halibut fillets hydrated, you will find that a lemon juice-infused butter sauce works wonders.
Use caution when handling the halibut filets – Halibut can easily break apart, so be careful when flipping it and make sure it's been on the stove long enough to produce a lovely crust. Invest in a fish spatula to make the process go more smoothly.
The goal is for each halibut filet to only need to be flipped once. The more you muck with it, the more it will fall apart.
How to Cook Halibut Filet – Melt some butter in a skillet over medium-high heat and add your halibut fillets gently. You can wrap the fillets in lemon slices. You should sear the halibut fillets for a few minutes, then decrease the heat to medium and cook for another couple of minutes on the other side.
You should serve the halibut fillets immediately after squirting them with lemon juice and topping them with some fresh herbs.
Keep tabs on the internal temperature – You should check the internal temperature of your halibut filets with a meat thermometer to eliminate any guesswork. The internal temperature of a cooked halibut should be 118 F
Notably, you should use fillets of identical sizes. Try as much as possible to choose the most equal-sized fillets you can locate to ensure even cooking.
Brown butter – When your halibut is done, then it is time to make the halibut butter sauce. You can simply remove the halibut filets from the pan – cover to keep warm – and re-use the same pan.
Reduce the heat to medium-low and stir in the butter. Go ahead to cook for about 2 – 3 minutes – stirring regularly – until the butter is golden, foamy, and smells nutty.
Add some lemon juice – Don't leave out the lemon juice. Lemon juice helps to keep the fish supple while also bringing out the best taste. When it comes to flavoring white fish with this zesty fruit, you really can't go wrong.
You should squeeze all of the juices from both halves of a lemon into the pan with a squeezer. (Squeeze the half lemon into the squeezer, open side down. You can open and close it multiple times to get everything out). Then simmer for 3-4 minutes – stirring regularly – until the volume of the liquid has reduced by half.
 

View this post on Instagram

 

How Long to Cook Halibut Filet
| | | |
| --- | --- | --- |
| Preparation Time | Cooking Time | Total Time |
| 5 minutes | 15 minutes | 20 minutes |
Print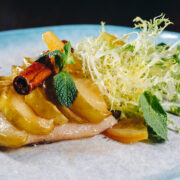 Pan-Seared Halibut Recipe with Lemon Butter Sauce (4 Servings)
---
---
Instructions
Start by patting the halibut fillets totally dry with paper towels to promote even browning.
Then season the fish with garlic powder, paprika, sea salt, and black pepper on both sides. Set it aside for now.
Get a large skillet and heat the olive oil over medium-high heat for about 2 minutes.
Go ahead and add the halibut fillets in a single layer (if all of the fish won't fit in a single layer, I strongly advise you do it in batches).
Sear the halibut filets for 3-4 minutes, without moving it, until the edges are opaque.
Flip it and cook for another 2-4 minutes until it is well cooked through.
You can remove the filets from the pan when they are ready, and wrap the fish in foil to keep it warm.
Go ahead and turn the heat down to medium-low. In the same pan, melt the butter. Then allow it to melt before heating for 2-3 minutes, stirring regularly, until the butter is browned and smells nutty.
Proceed to squeeze the juice from both halves of the lemon into the pan with a Squeezer. Then bring it to a simmer.
Then reduce to a low heat and continue to cook for 3-4 minutes, stirring frequently, until the juice is reduced by half. Make sure the lemon butter sauce remains runny though.
You should place the pan-seared halibut fillets on top of the lemon butter sauce, then drizzle with additional sauce.
Halibut filets, one of the most popular white fish, has a delicate, sweet flavor that complements both acidic tomato sauce and rich brown butter. You can watch this video recipe to know how to cook halibut filets.