How to Make Stir-Fry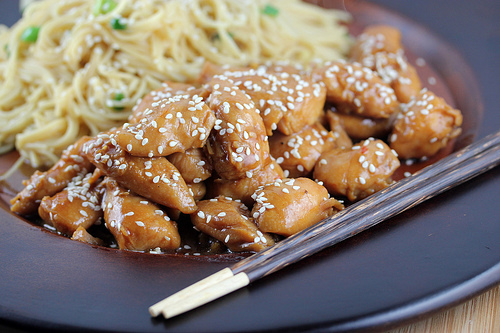 If you have ever wondered how to make Asian stir-fry this article is perfect for you. The truth is, making stir-fry is very easy and requires only a little time and effort. This article includes 6 Asian stir-fry recipes; Teriyaki chicken, chicken stir-fry, broccoli and beef, Kung Pao Shrimp, chicken fried rice, and chicken chow mein. For any of these recipes you can use whatever type of meat you prefer; chicken, beef, pork, or shrimp. The best part about these recipes is that no deep frying is required. These stir-fry recipes are a great alternative to the deep-fried Chinese dishes. A wok is not required but if you have one I would recommend using it. A deep skillet will work as well.
Most of these dishes require a simple marinade and/or sauce. The key to a delicious stir-fry is the sauce. A lot of these recipes call for similar ingredients such as soy sauce, sesame oil, rice vinegar, rice wine, garlic, ginger, and sugar. If you are planning on making several of these recipes, it would be a good idea to keep some of these ingredients on hand. These recipes are perfect for beginners or those that have been cooking for a long time. Enjoy.
Teriyaki Chicken-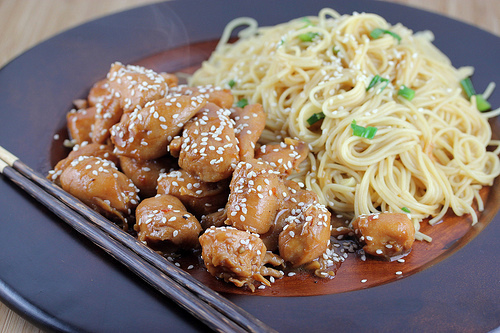 Ingredients:
2lbs boneless skinless chicken breasts (cut into 1" chunks)
2/3 cup mirin (Japanese sweet rice wine)
1 cup soy sauce
4 ½ teaspoons rice vinegar
1/3 cup white sugar
7 garlic cloves (minced)
1 tablespoon fresh ginger (minced)
1 dash red pepper flakes
ground black pepper (to taste)
2 tablespoons vegetable oil
Cooking Instructions: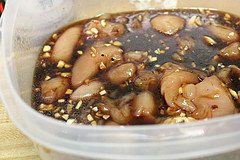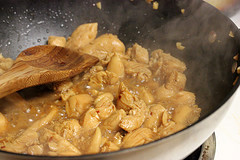 Step 1: In a medium bowl combine mirin, soy sauce, rice vinegar, sesame oil, sugar, garlic, ginger, red pepper flakes and black pepper. Add chicken tossing to coat with the marinade. Cover and refrigerate for at least 30 minutes.
Step 2: Heat vegetable oil in a wok over high heat. Remove the chicken from the marinade with a slotted spoon and place into the hot wok. Reserve the marinade. Stir-fry the chicken pieces until they are fully cooked (the internal temperature has reached 165 degrees); about 7-8 minutes. During the last few minutes of cooking pour the sauce into the wok with the chicken.
Step 3: Cook until the sauce is bubbly.
(Makes 4 Servings)
Chicken Stir-Fry-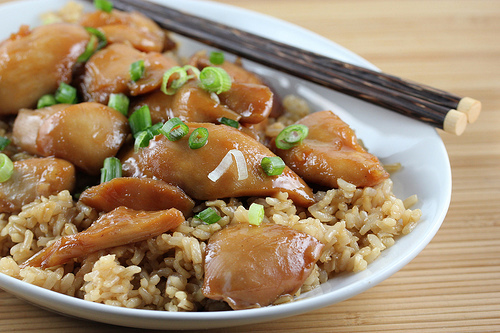 Ingredients:
1 1/2 lbs boneless skinless chicken thighs (cut into 1" pieces)
¼ cup honey
3 tablespoons soy sauce
2 tablespoons rice wine
2 tablespoons fresh ginger (minced)
2 tablespoons fresh garlic (minced)
½ teaspoon sesame oil
1 pinch ground black pepper
2 tablespoons vegetable oil
2 tablespoons oyster sauce
Cooking Instructions: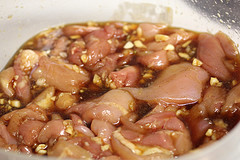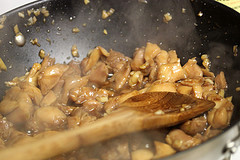 Step 1: In a large bowl (or sealable plastic bag) combine honey, soy sauce, rice wine, garlic, ginger, sesame oil and black pepper. Add chicken and toss with the marinade to coat. Cover and refrigerate for at least 3 hours to overnight.
Step 2: Heat vegetable oil in the wok over high heat. Add chicken with the marinade and stir-fry until the chicken pieces are fully cooked (about 7-8 minutes).
Step 3: Reduce heat, add the oyster sauce and stir in until the chicken pieces are coated with it.
(Makes 2 Servings)
Broccoli and Beef-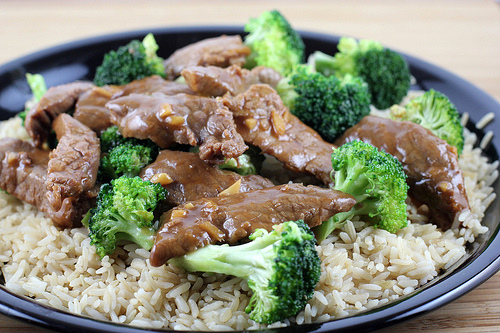 Ingredients:
1lb flank steak
4 tablespoons soy sauce
2 tablespoons dry sherry
1 teaspoon cornstarch
1 bunch fresh broccoli (sliced into florets)
2 garlic cloves (minced)
2 slices fresh ginger (finely minced)
2 tablespoons vegetable oil

Cooking Instructions: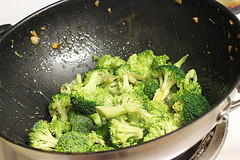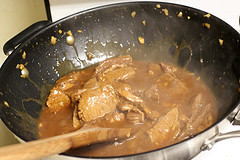 Step 1: Slice steak against the grain thinly into strips. Place steak in a bowl or sealable bag.
Step 2: Combine soy sauce, dry sherry and cornstarch. Mix well, and pour mixture over steak strips. Marinate for 15 minutes to a half hour.
Step 3: Heat the wok and add oil. Add minced garlic and ginger root and stir fry over medium-high heat for about 20 seconds. Add beef and stir fry stirring constantly for a couple minutes.
Step 4: Add broccoli and stir fry for 5 minutes or until broccoli is cooked but still crispy and dark green.
(Makes 2 Servings)
Kung Pao Shrimp-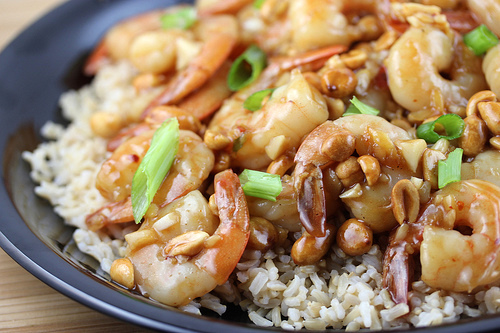 Ingredients:
1 ½ lbs medium peeled and deveined shrimp
1 tablespoon dry sherry
1 tablespoon cornstarch
½ teaspoon salt
1/8 teaspoon ground white pepper
oil (for frying)
4 small red dried hot chili peppers
½ cup unsalted peanuts
1 teaspoon garlic (minced)
1 teaspoon ginger (minced)
2 green onions (sliced)
Sauce-
2 tablespoons soy sauce
1 tablespoon white wine vinegar
1 tablespoon dry sherry
3 tablespoons chicken broth
2 teaspoons sugar
2 teaspoons cornstarch
Cooking Instructions: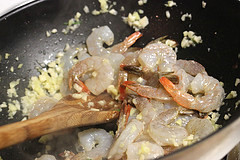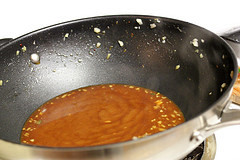 Step 1: in a bowl combine sherry, cornstarch salt and pepper. Mix well. Add shrimp and stir to coat. Let marinate in the refrigerator for at least 15 minutes.
Step 2: In another bowl combine all sauce ingredients, mix well, cover and refrigerate until needed.
Step 3: Heat the wok to medium heat, all a tablespoon of oil and add dried chilies and stir fry until the pepper began to char (just starting to turn black but do not completely char them). Remove from pan and set aside.
Step 4: Add a tiny bit more oil. Add garlic and ginger stir fry for 15 seconds. Add shrimp and stir fry until shrimp turn pink (about 2 minutes)
Step 5: Add peppers, peanuts and green onions to the pan. Increase the heat and pour the sauce into the pan and stir until thickened and bubbly. Serve with white rice.
(Makes 2 Servings)
Chicken Fried Rice-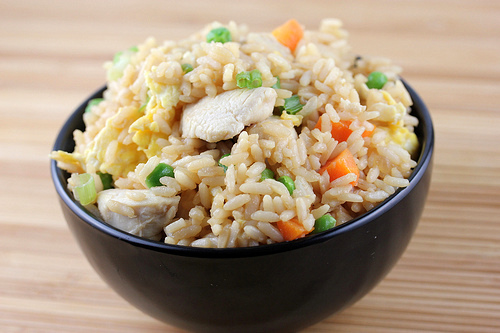 Ingredients:
2 boneless skinless chicken breasts (cut into cubes)
4 cups white rice (cold and at least 1 day old)
2 large eggs
2 minced garlic cloves (or more add to your taste)
1 cup frozen peas and carrots
1 white onion (diced)
½ cup soy sauce (or to your taste)
2 tablespoons oyster sauce (or to your taste)
Sesame oil (for stir frying)
Vegetable oil
Cooking Instructions: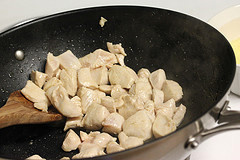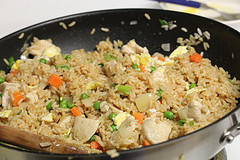 Step 1: Fry chicken pieces in oil until fully cooked or golden brown. Drain on paper towels and set aside. Beat eggs and fry in oil or butter and scramble. Remove from pan and set aside.
Step 2: Add 1 teaspoon of sesame oil and one teaspoon of vegetable oil to the wok. Stir fry diced onion and garlic for 30 seconds, add peas and carrots mix and stir fry until vegetables are done to desired tenderness.
Step 3: Add a little more oil and then add the rice and stir fry for a couple minutes. Add soy sauce and oyster sauce to the rice while stir frying.
Step 4: Add the scrambled egg and chicken pieces and mix well. Heat thoroughly and serve.
(Makes 4 Servings)
Chicken Chow Mein-


Ingredients:
1 boneless skinless chicken breast (sliced into small chunks)
1 (6 ounce) package chow mein noodles
1 large onion (sliced)
4 garlic cloves (minced)
2 cups bean sprouts
2 teaspoons cornstarch mixed with 1 tablespoon of water
vegetable oil
Marinade-
2 tablespoon oyster sauce
1 tablespoon cornstarch
1 egg white
Sauce-
¼ cup rice wine vinegar
¼ cup chicken broth
3 tablespoons rice wine
2 tablespoons hoisin sauce
1 tablespoon soy sauce
2 teaspoon chili garlic sauce
Cooking Instructions: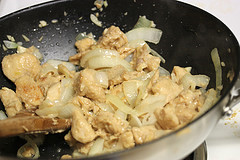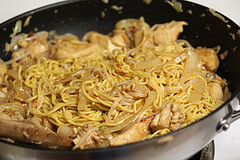 Step 1: In a medium bowl mix together egg white, oyster sauce and cornstarch. Add the chicken and marinate for 30 minutes. Bring a pot of water to a boil. Add chow mein noodles and cook for 3 minutes. Remove from heat and rinse with cold water. Set aside.
Step 2: Heat 2 tablespoons of vegetable oil in a wok over high heat. Add the chicken and stir fry for 7-8 minutes or until fully cooked (the internal temperature has reached 165 degrees). Remove the chicken from the wok and set aside. Clean out the wok.
Step 3: Add a little more oil and add sliced onions and stir fry for one minute. Add the garlic and stir fry for another minute. Add the chicken and bean sprouts and continue to cook for an additional minute and then add the drained noodles. Toss the noodles with the rest of the ingredients in the wok and bring to a boil. Pour the cornstarch and water mixture into the wok. Continue to cook while stirring until the sauce has become thick and bubbly.
(Makes 2 Servings)